bitcoin
7 Easy Ways for Noobs to Earn Free Bitcoins without any Knowledge and Skills
If you're new to Bitcoin and you can't afford to purchase any coins don't despair. You can still have a look at the tech, test it and possibly even create some extra income.
Ever since Bitcoin was created, many individuals and companies had their ways of showcasing the technology and giving away small amounts of bitcoins to newbies.
There are certain methods that let you earn hundreds of satoshis completely free in return for a bit of your time. All this without having any technical knowledge or previous experience with cryptocurrencies.
It may not be a lot but if you're persistent and perhaps even wait through next few bubbles, your coins might gain more value.
After all, that's what Bitcoin is good at - as of now, its value is ~$2500.
Please note that most links in this article are affiliate links. I get a small commission if you use them to sign up.
Also, some of the links may not be online anymore.
#1 Earn.com (former 21.co) (discontinued)
This company deserves to have its own category because it's a Bitcoin pioneer and likely one of the highest paying companies per CTA (call to action).
Bitcoin companies are able to launch surveys and other tasks via earn.com and pay for each user that completes it.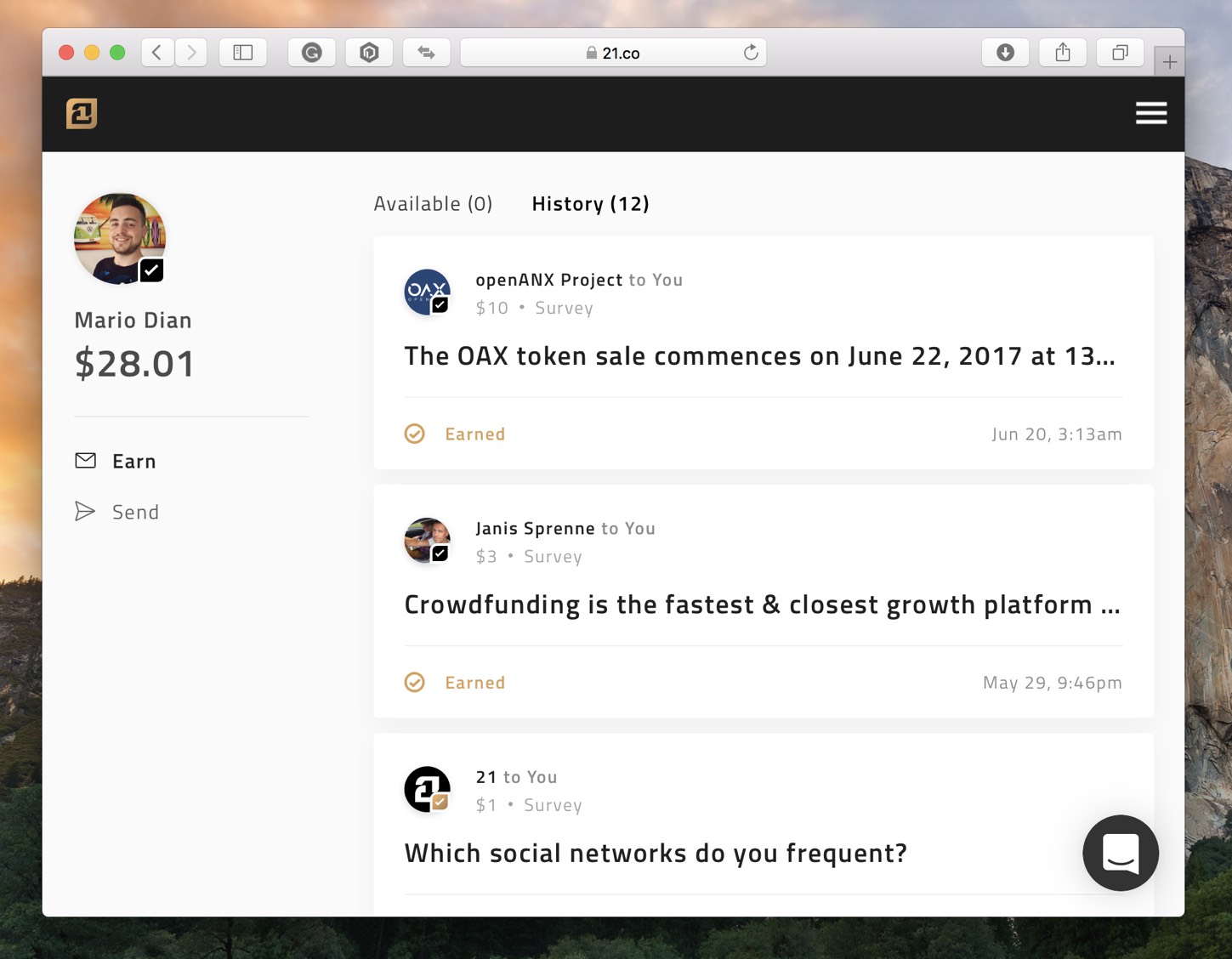 The reward is usually anywhere between $0.10 to $10 per completed task which makes it very attractive even for regular Bitcoin users. In my case, the average profit is around $2.30 in bitcoins per task.
They also randomly send paid offers for copywriting jobs and other things where some skills may be required. For example, a few weeks ago a Bitcoin company was looking for bloggers to write about Bitcoin.
#2 Exchange markets & trading platforms
Whenever a new person enters the Bitcoin ecosystem, one of his/her first questions is "How to buy Bitcoin?".
There are many different ways, some even anonymous. But if your goal is to make money you should be referring exchange markets and trading platforms that have an affiliate program to those people.
Most of the online services offer some kind of economic incentives for existing users to lure newbies. Usually, in the form of a commission from paid fees.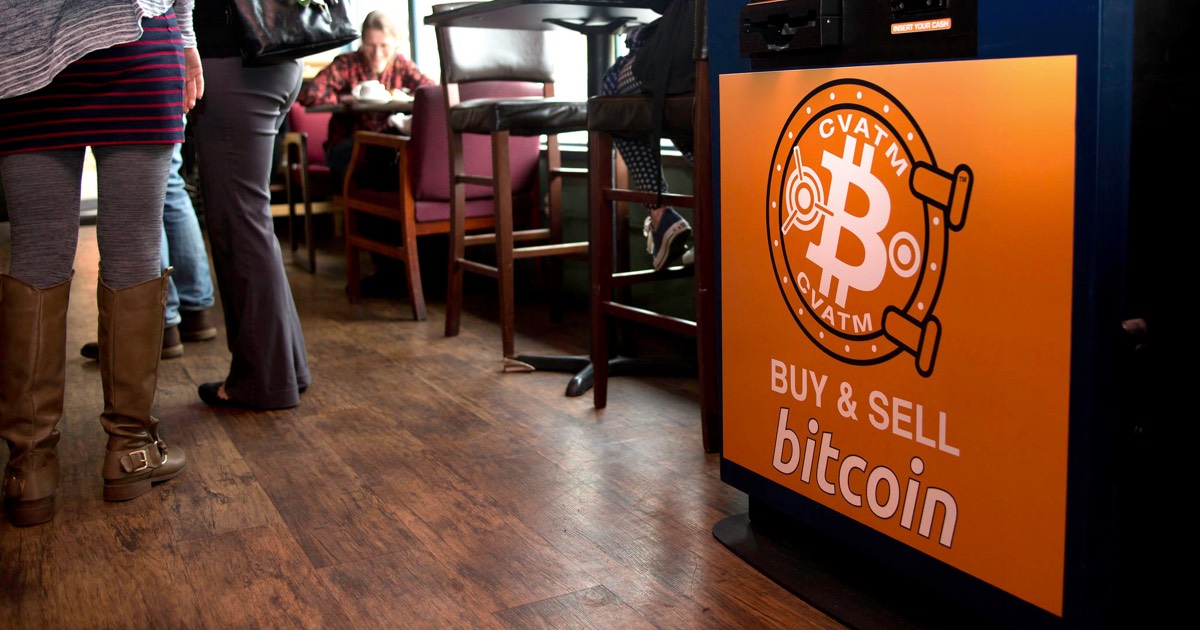 Every time your referrals buy/sell bitcoins, they pay small trading fees from which a commission is rewarded to your account.
Because people usually sign up these services with an intention to spend money, it's an easy way to build decent passive incomes.
As an example, this blog is 100% funded by incomes from Bitcoin affiliate networks.
Bitfinex
The world's largest and most advanced Bitcoin and crypto trading platform. Most major cryptocurrencies such as Bitcoin, Litecoin, Monero, and Ethereum are available both for exchange as well as margin trading with leverage.
I've also been using them since 2013 to lend US dollars and have been making 50% p.a. for a few years.
To apply for the affiliate program, you will have to contact them by email. Once they approve you, you'll be given a unique link that you can start sharing with your friends and all over the Internet.
Trader commission: 18% of trading fees
Lender commission: 18% of lending fees

Bitfinex
The most advanced crypto trading platform.
Buy Bitcoin on Bitfinex
SimpleFX
SimpleFX is a robust online trading provider, offering trading with Forex CFDs on bitcoins, litecoins, indices, precious metals and energy.
They offer margin trading with leverage as high as 1:500 that caters to the most demanding traders.
Commission: Up to 25% of the trading spread generated by each referral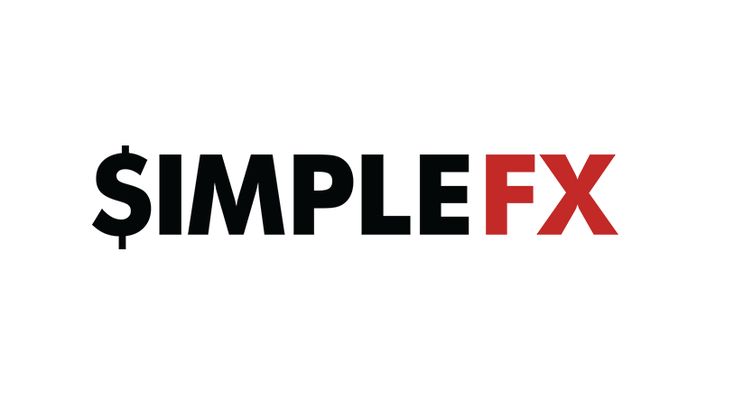 SimpleFX
Buy and sell Bitcoin and other assets from anywhere. Deposit and withdraw funds effortlessly with no limits.
Earn with SimpleFX
LocalBitcoins
LocalBitcoins is a decentralized person-to-person trading market based in Finland that lets you directly buy and sell bitcoins from other people.
They offer many different payment methods as well as trading face-to-face. LocalBitcoins acts as an Escrow service which adds an extra layer of security to the system and protection for customers.
Commission: 20% from trading fees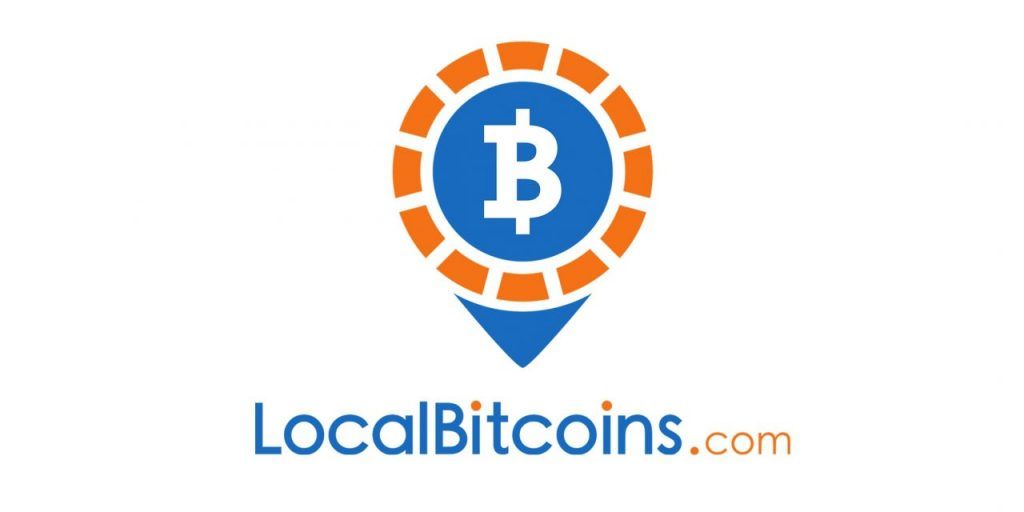 LocalBitcoins
LocalBitcoins is a person-to-person Bitcoin trading marketplace.
Earn with LocalBitcoins
Other platforms
CoinMate - CoinMate is a European exchange market based in Czech Republic offering fair prices. If you're European it's probably one of the easiest ways for you to buy Bitcoin.
Commission: 50% off of referral's fees for first 6 months
Whaleclub - Whaleclub is a trading platform based in Hong Kong that allows anyone to trade the financial markets by using digital currency.
Commission: 50% off of referral's fees
Referral's benefit: 30% off of a first deposit
Changelly - An exchange market that lets you easily exchange bitcoins to other cryptocurrencies. It's a good alternative to ShapeShift.io which doesn't offer any affiliate program, unfortunatelly.
Commission: 50% from referral's revenue
HitBTC - Global trading platform that supports numerous cryptocurrencies. Besides trading cryptocurrencies, tokens and ICOs, HitBTC provides proper markets for fiat trading, including USD and EUR trading pairs.
Coins.ph - Is a South East Asian exchange market, remittance service and blockchain-enabled platform that enables even those without a bank account get access to financial services. It also saved my ass when I traveled the Philippines and ran out of government money.
Commission: 50 Filipino Peso for each verified referral
3 Faucets & Dice Games
Faucets were one of the first options to introduce Bitcoin to newbies right from the early beginning of Bitcoin.
The idea is simple.
Just enter your Bitcoin wallet address and once you accumulate a certain amount (to cover the mining fees), they'll send you tens or hundreds of satoshis (1 satoshi = 0.00000001 BTC) and sometimes evern more.
These faucets are usually funded by advertisement, so as long as enough people click on them, you may request free bitcoins indefinitely.
There's a special type of faucets where you have to play a certain game like rolling a dice.
Depending on your luck, with some "gamification" faucets you may even receive a few thousands of satoshis.
Freebitco.in
It is one of those faucets that offer a variable reward plan, meaning your earnings rely purely on luck.
Apart from rolling a dice, they have HI-LO game and a lottery. All the available games are "provably fair" which you can prove yourself once signed in to your account.
More than 3 years ago I've written a script that uses Martingale strategy to win HI-LO game on their website. It may not be working anymore but should be fairly easy to edit it for the new front-end with a bit of javascript knowledge. The core functionality should be the same.
Earn: up to $200 worth of bitcoin
Shotbit (discontinued)
Shotbit is another faucet that is more of a game than a boring faucet. Before you can get free bitcoins you will have to shoot down some alcohol bottles.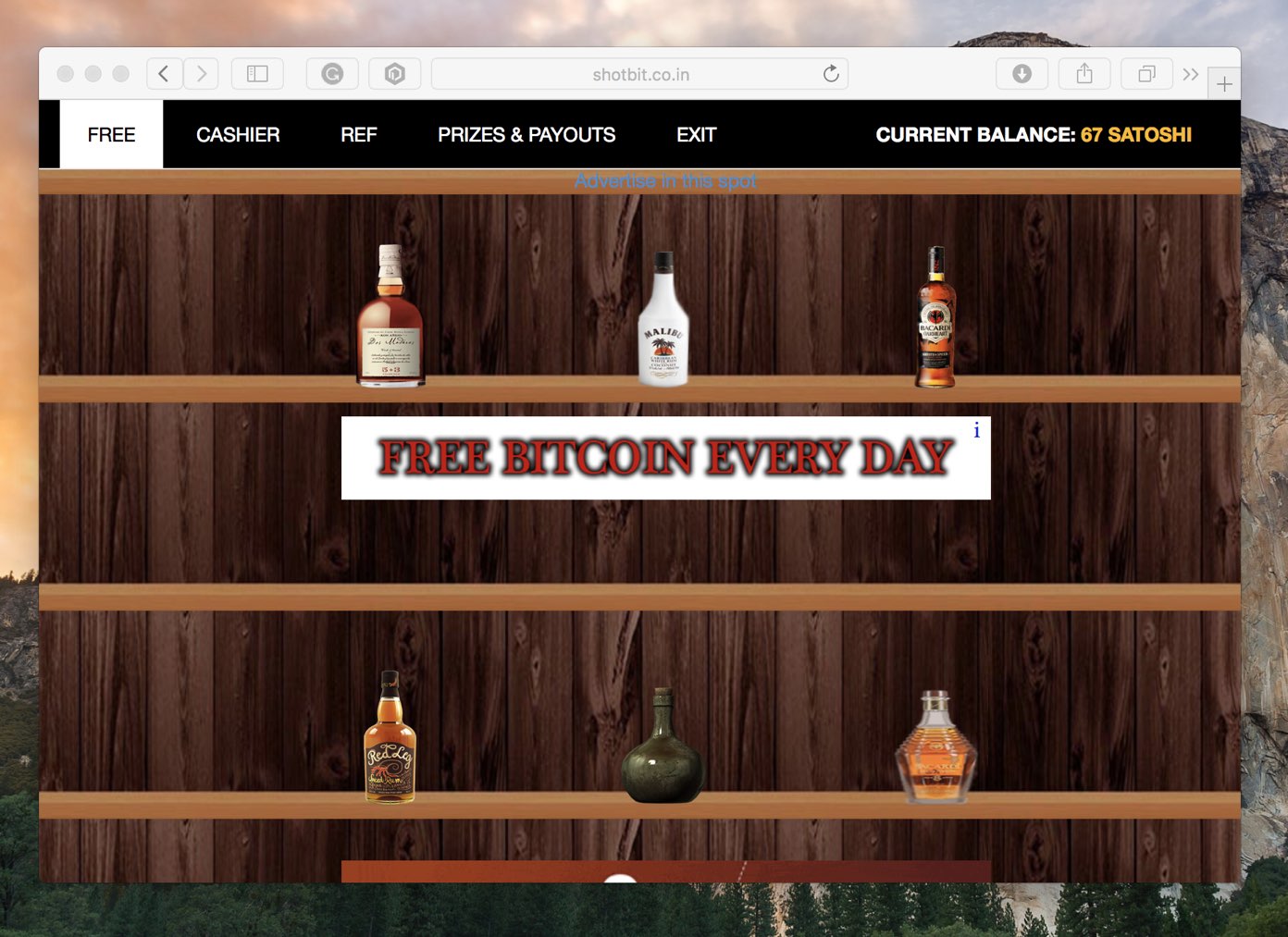 You have 4 shots available every 30 minutes and each shot is worth some random amount of satoshis.
Earn: tens of satoshis per
Other faucets
The list of faucets is never-ending so there's no point in listing them all here. I will only mention a few that are known to work and I've personally tested them.
Autofaucet, ClaimBTC, CryptoGames.
You can earn up to hundreds of satoshis every 15-60 minutes with each faucet.
If you want to find more faucets just use google.
#4 Products & Services
This method involves promoting other businesses. Affiliate marketing is a booming industry and companies selling products and services are willing to pay premium to get new customers.
However, it's not a 100% free method, because you have to at least invest time into promoting. Without actively promoting a product, the chances of you attracting new customers is almost zero.
Channels that you could use to spread the word are:
your own blog
youtube
social media
crypto-related forums
blog/forum comments
reddit
instagram and so one
If your affiliate links are smartly placed within a quality content ,(necessary!), the chances are you will convert and earn money.
Once your content is regularly visited it may give you a solid passive income which doesn't require any more of your time.
Bitcoin Trezor
Trezor is the first Bitcoin hardware wallet invented by the same people that created the first Bitcoin pool mining SlushPool.
It's an industry standard for securely storing private keys for Bitcoin and other cryptocurrencies. I call it an iPhone of Bitcoin.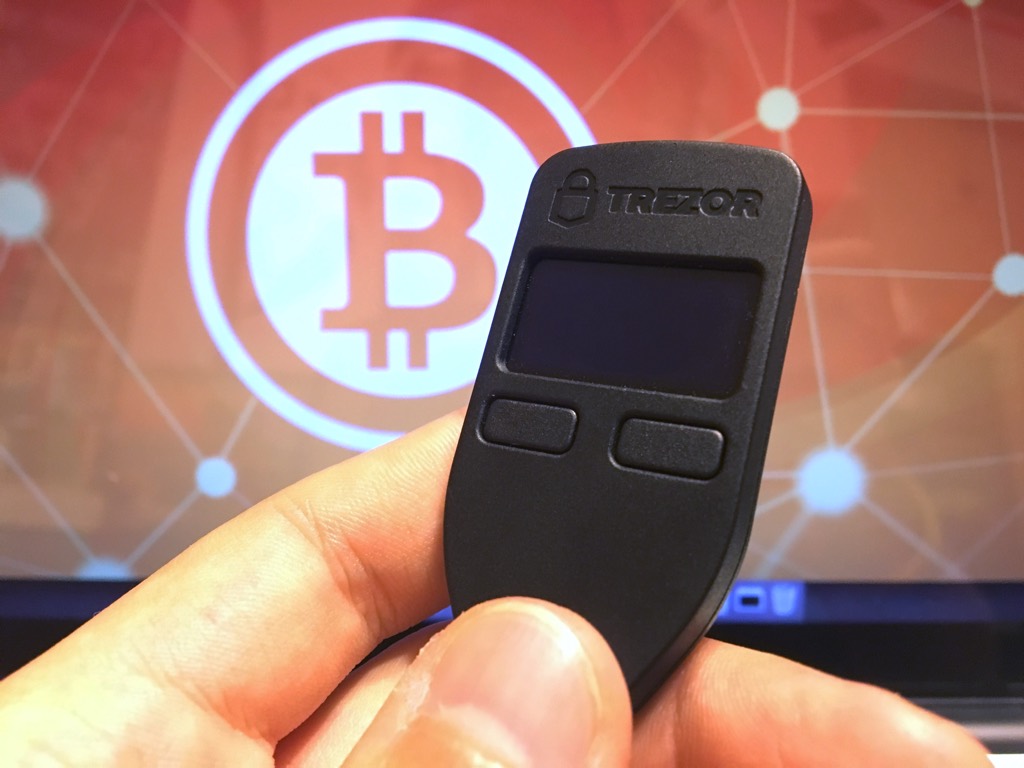 It features several layers of protection such as the fact that private keys never leave the device. Your device is also PIN protected which encrypts the device's seed.
For an extra security, I'd recommend you to enable passphrase protection too. It gives you an independent wallet with each new password which you could use for plausible deniability.
If you put enough time and effort into promoting Trezor, it should pay off as it's a very well-known product and maintains a great reputation in the crypto world.
Commission: 5% from each sale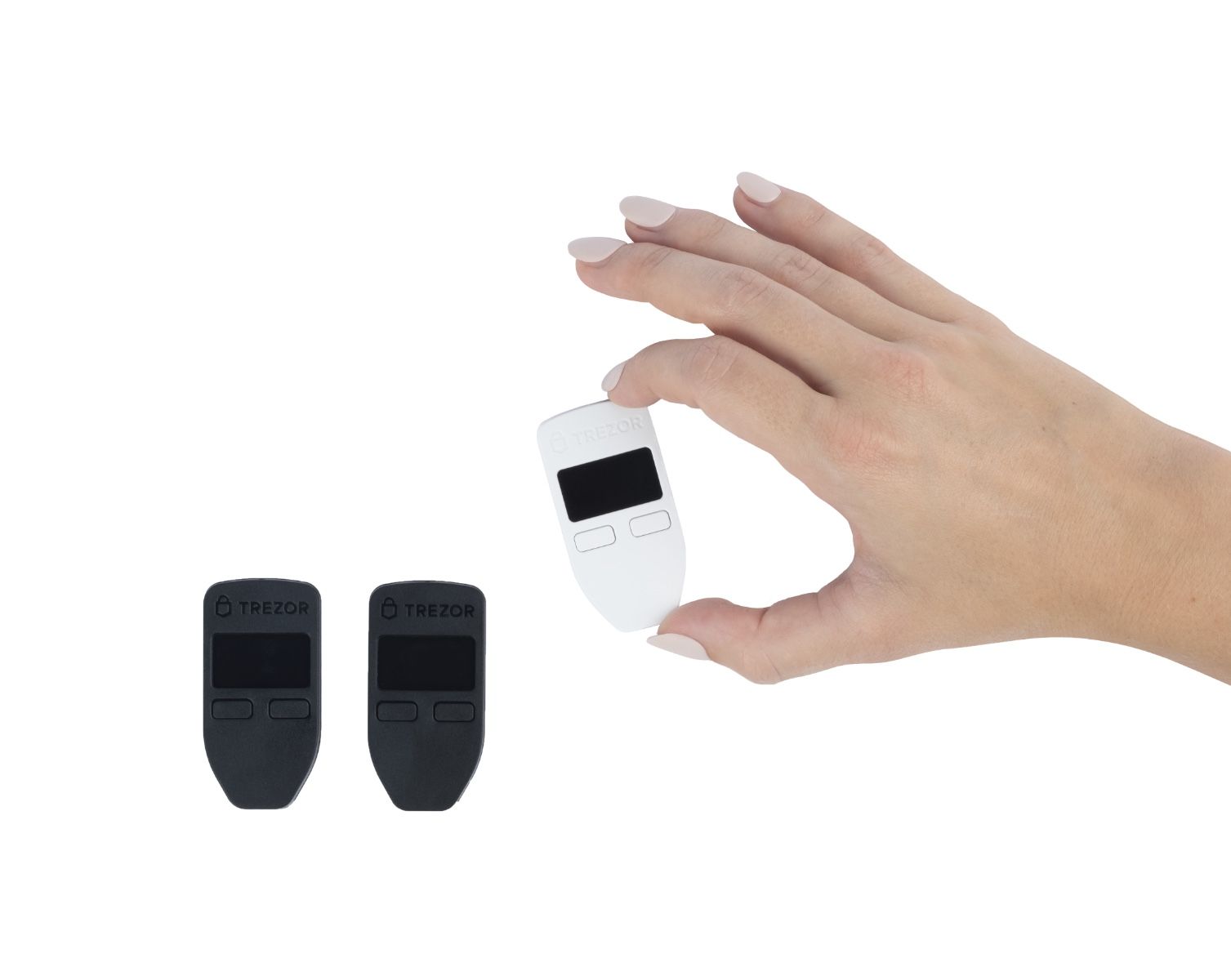 Trezor One
The very first Bitcoin hardware wallet ever created. Own a piece of history in different colors. Learn More.
Shop on trezor.io
BitcoinTech (discontinued)
BitcoinTech.store goes hand in hand with Bitcoin Trezor. It's also based in Czech Republic and offers accessories for Trezor and some other cool Bitcoin tech too.
I've purchased a beautiful hand-made wooden dock stand for Trezor and it arrived from Czech Republic to Taiwan within 5 days! The owner is a friendly guy and takes proud in his craft. For a good reason.
Just have a look yourself: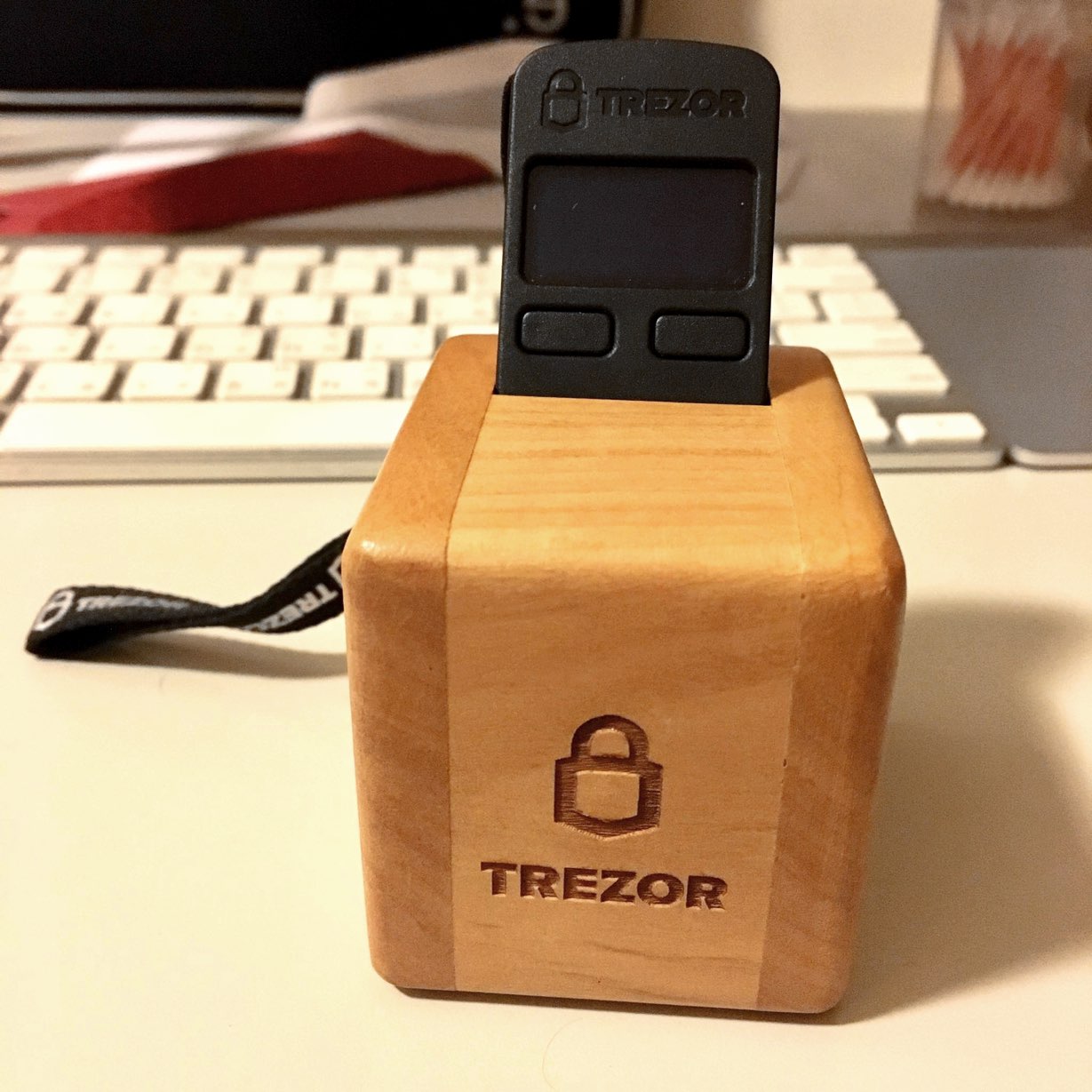 This elegant stand complements Trezor greatly.
Apart from being a nice decoration, it's also a useful addition to Bitcoin Trezor which provides a bit of robustness and safety for the device.
There is a hole from the bottom area for a USB cable so that your Trezor is always connected and ready to use.
Commission: 5% from each sale
Other products & services
Purse - Save 15% on your Amazon purchases with Bitcoin. Create a wishlist of items, name your discount and wait for a person with Amazon coupons to purchase the item for you. Pay with bitcoin and save money!
#5 Offer programs
Similarly to 21.co there are other companies that reward you for your time. Apart from answering surveys, you may need to click advertisements, watch videos, sign up for certain services, install mobile apps and so one.
Some of them pay quite well but in general, all these offer programs are very time-consuming in relation to how much you get paid.
On the other hand, most programs don't require you to sign up with them using your email address. Only Bitcoin address is needed.
Bitcoin Reward - Complete simple tasks such as surveys, watching videos, signing up to websites, completing offers etc.
Earn: 1 000 to 1 500 000 satoshis for each task
Bitcoin Survey - Complete surveys and earn bitcoins every 24 hours.
Coinbucks - First Bitcoin CPA affiliate network that allows you to earn bitcoin by completing online promotional offers, installing mobile apps and more. Payouts every 24 hours.
BTCclicks - You will be able to surf ads from the list and earn for each click you make.
Earn: up to 0.00166 mBTC per click
BitcoinGet - Answer surveys, explore offers, complete jobs, shop and earn bitcoin.
#6 Forum signature campaigns
If you like to spend (or waste) time discussing Bitcoin with other people, why not making an extra income doing just that?
On forums like bitcointalk.org, Bitcoin companies and startups promote their services via users' signatures.
They provide you with a code that needs to be inserted to your profile which will then display an advertisement to a particular website after each of your posts.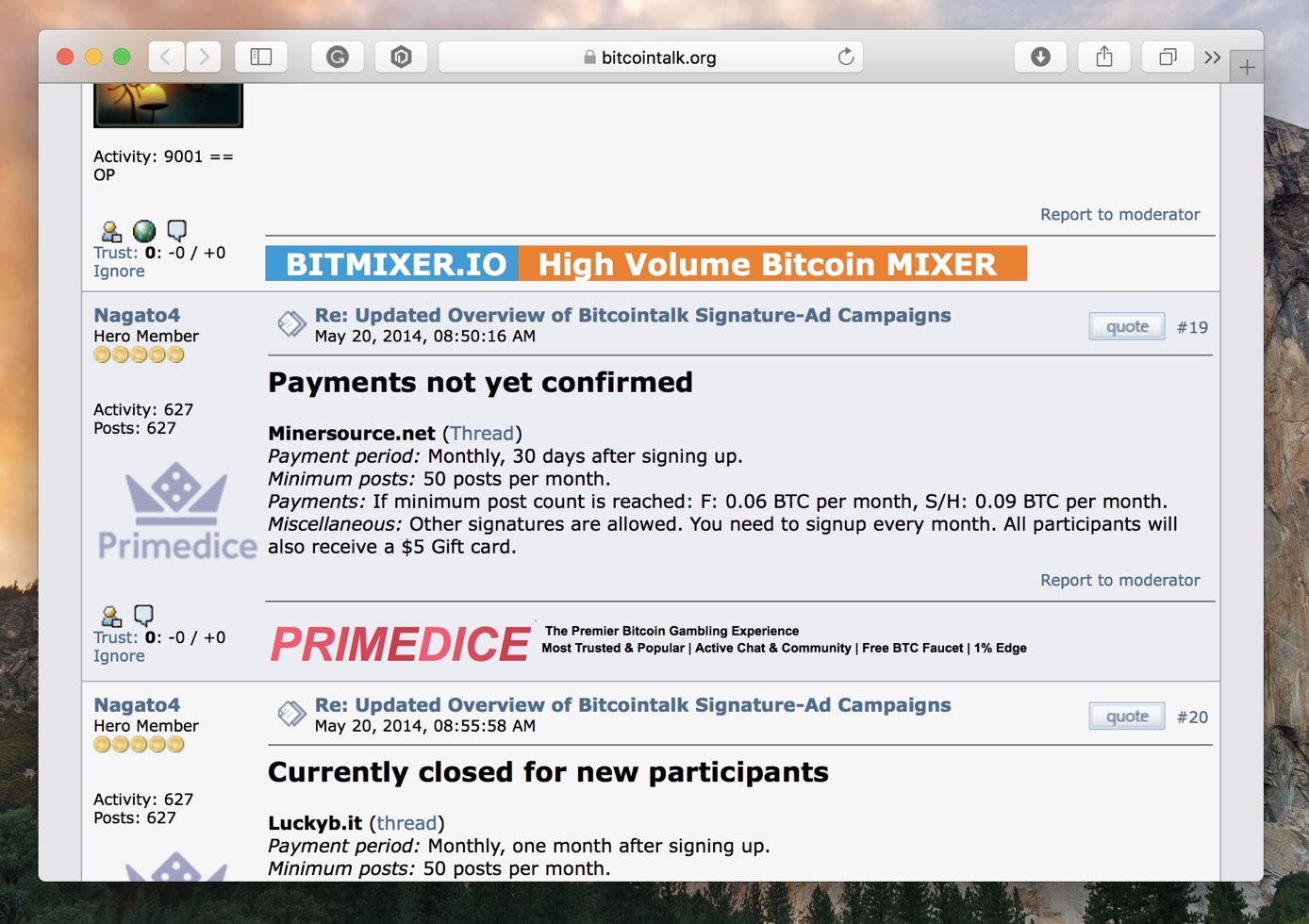 Depending on your forum rank, activity and the ad campaign you may earn some nice extra income.
If you become a well-known member of the community and are able to deliver quality comments, companies may even contact you directly.
For the list of ongoing campaigns please have a look at this bitcointalk thread.
#7 Crypto giveaways
Often enough, there are companies and developers doing giveaways of their coins to existing Bitcoiners.
It works by cryptographically proving ownership to your bitcoins. You'll be then proportionately rewarded a certain amount of shitcoins for each proven bitcoin.
Recently I wrote a tutorial on how to get FREE bitcoins with Byteball and Stellar Lumens.
They indeed gave me some coins which I exchanged for Monero. Sure it cost me privacy - which I can get back by using Monero - but I think it was well worth it for 10 minutes of work.
I suggest you closely follow their blog/newsletter because they intend on doing more giveaways in the future.
---
In the next post, I will talk about legit ways of making more serious bitcoin earnings. However, it requires a bit of skills and effort.
Found this valuable?
Please consider supporting us. Thank you!
Support us