bitcoin
Spend Your Bitcoin Anywhere and Earn Rewards with Xapo Card
The emergence of Bitcoin marked a turning point in our approach to traditional banking and financial transactions. Its popularity has skyrocketed over the years with millions of individuals globally benefiting from its various use cases.
From being considered a mere novelty in its early days to a bandwagon that has picked up mainstream use today, Bitcoin has indeed come a long way.
However, since the numbers of stores and businesses that accept Bitcoin are limited, using it as an everyday payment method can be a challenge.
This is where the Xapo Card comes in; a Bitcoin backed debit card that gives users the ultimate freedom to spend their bitcoins anywhere across the globe where Visa and Mastercard are accepted.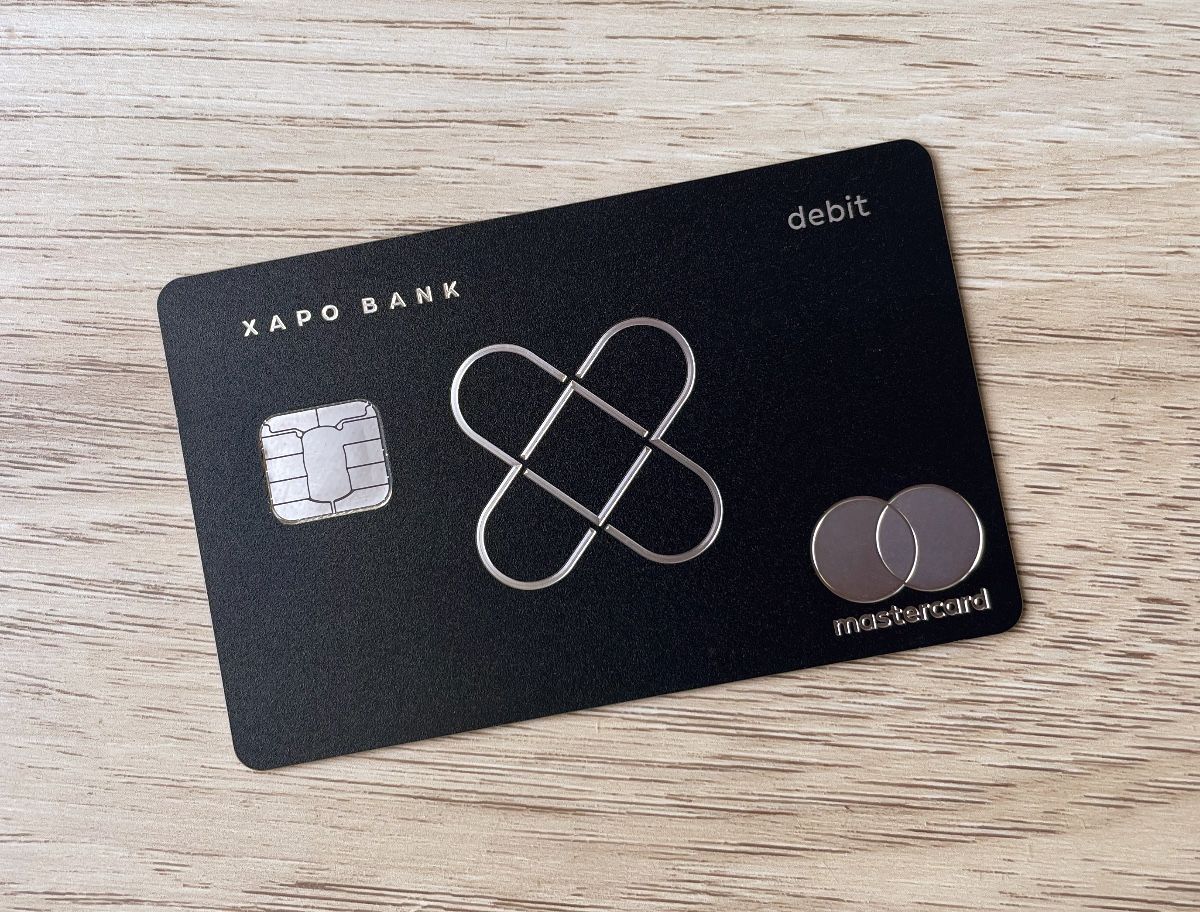 Say goodbye to the worries of limited Bitcoin payment acceptance and enjoy the convenience of using your Bitcoins as seamlessly as any traditional payment method.
💡
It is important to be aware that Xapo operates as a custodial service and although they are regulated by the Gibraltar Financial Services Commission and provide protection for fiat deposits up to a maximum of the US Dollar equivalent of EUR 100,000, it is crucial to understand that third-party storage of your bitcoin can still pose risks.
What is Xapo?
Xapo is more than just a digital wallet and bitcoin Bank - it's the go-to platform for cryptocurrency users worldwide. Offering an array of impressive features and benefits, Xapo provides a flexible and secure experience for all users.
With Xapo, users can easily manage their accounts, make transactions, and check their balances on the go via their mobile app available for both iOS and Android. Whether you're a beginner or an experienced user, Xapo's platform makes it a breeze to utilize their services.
Features
What sets Xapo apart is its unique ability to earn interest on your USD and BTC deposits.
With a highly competitive annual interest rate of 4.1% for USD account holders and 1% for BTC account holders, there's no easier way to earn passive income on your deposits - even more so during these high inflation years. Say goodbye to the stress of active trading and investing, and let Xapo work for you.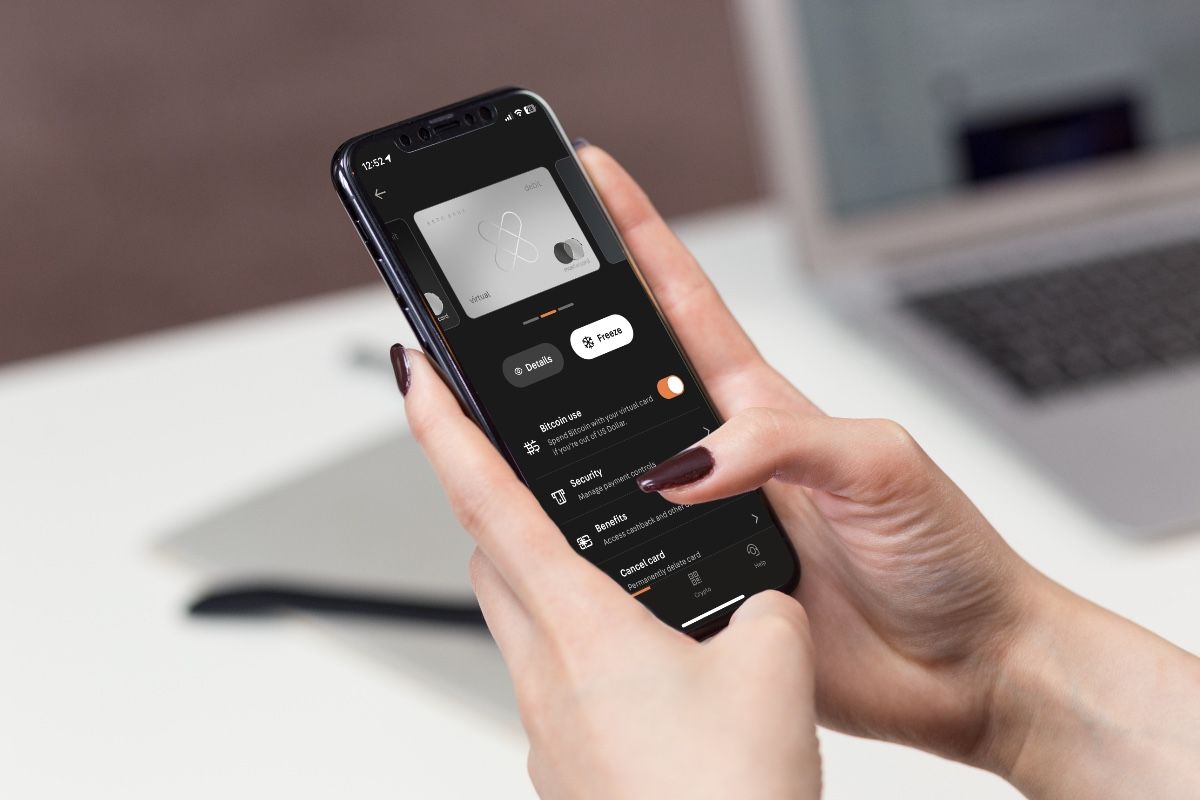 Xapo Bitcoin Card, the ultimate way to spend and manage your Bitcoin with ease! With Xapo, you can securely access your funds anywhere in the world, making it the perfect solution for travelers and digital nomads alike.
SIGN UP NOW & EARN $30
As a Bitcoin-first bank, Xapo enables you to conduct Bitcoin transactions quickly and securely. Plus, it doesn't stop at just blockchain transfers - they are the first Bank to utilize the instant settlement layer known as Lightning Network, which allows for even faster and seamless transactions.
So, with Xapo, you can rest assured knowing your transfers will be executed swiftly and without any complications.
The Xapo account offers an additional notable feature, enabling its users to promptly conduct global payments using the two largest stablecoins - USDT and USDC running on the Ethereum network.
This cutting-edge tool facilitates transactions with speed, efficiency, and often with lower fees than traditional banking methods.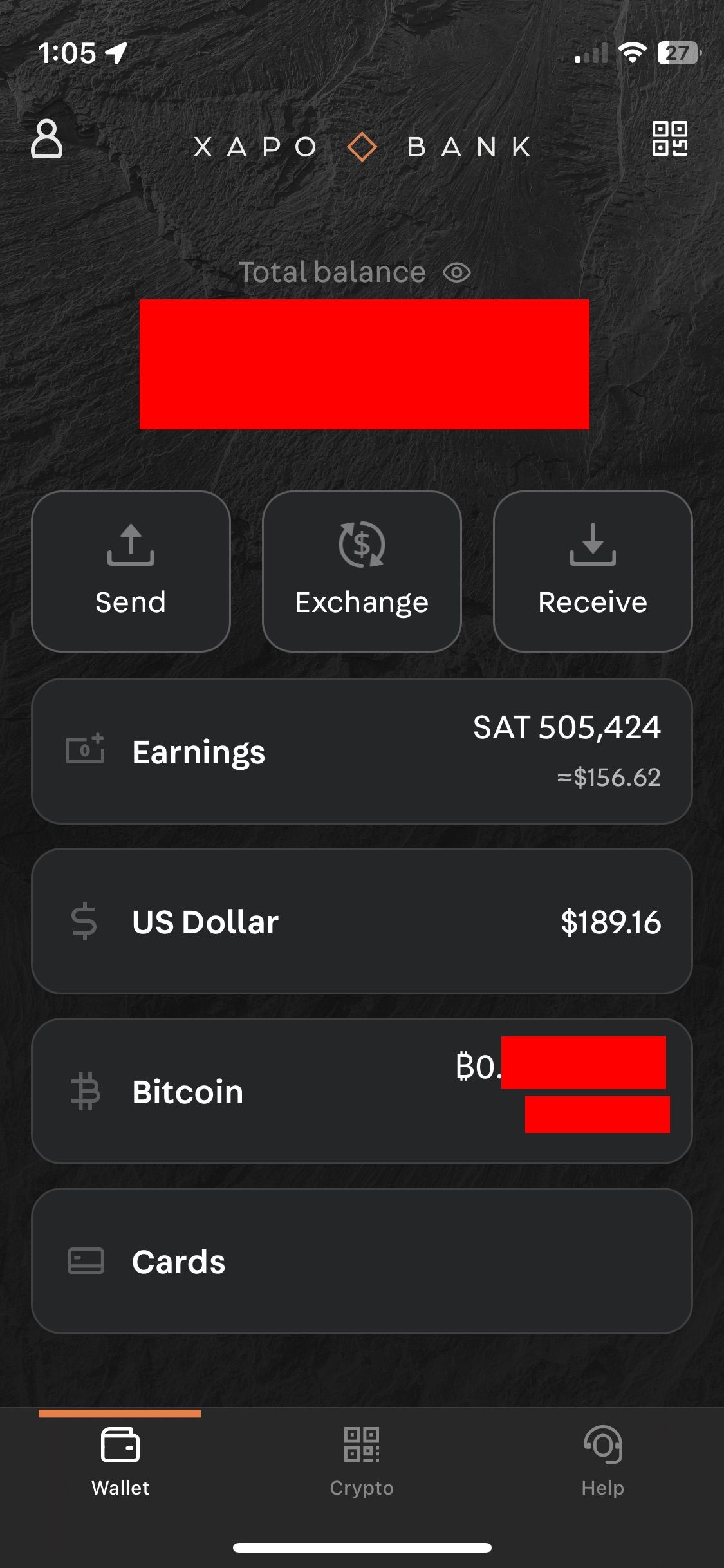 The great thing about stablecoins in Xapo is that you don't have to worry about the risk of holding it. Your funds are kept either in USD or BTC and are only converted to stablecoins during the transfer process.
In addition to being able to send and receive crypto payments, you can also send Euros via SEPA and British Pounds via Faster Payment System.
Please be advised that at this moment, the sending and receiving of USD is only available for Xapo members exclusively. It is not surprising because Xapo's services are unavailable to US citizens at this time.
Security
In addition to its regular features, the Xapo account offers enhanced security measures for users who prioritize protection.
Xapo takes its security seriously by storing the majority of its bitcoin in a cold storage hidden away in a secure underground bunker nestled in the Swiss mountains.
This fortification ensures that the funds are not only offline but kept out of sight, making it substantially more challenging for cybercriminals to access and pilfer the account.
Customer Support
Xapo takes customer support and satisfaction very seriously. That's why they offer an account manager to each client during business hours and a dedicated customer support team available round-the-clock to address any questions or concerns you may have.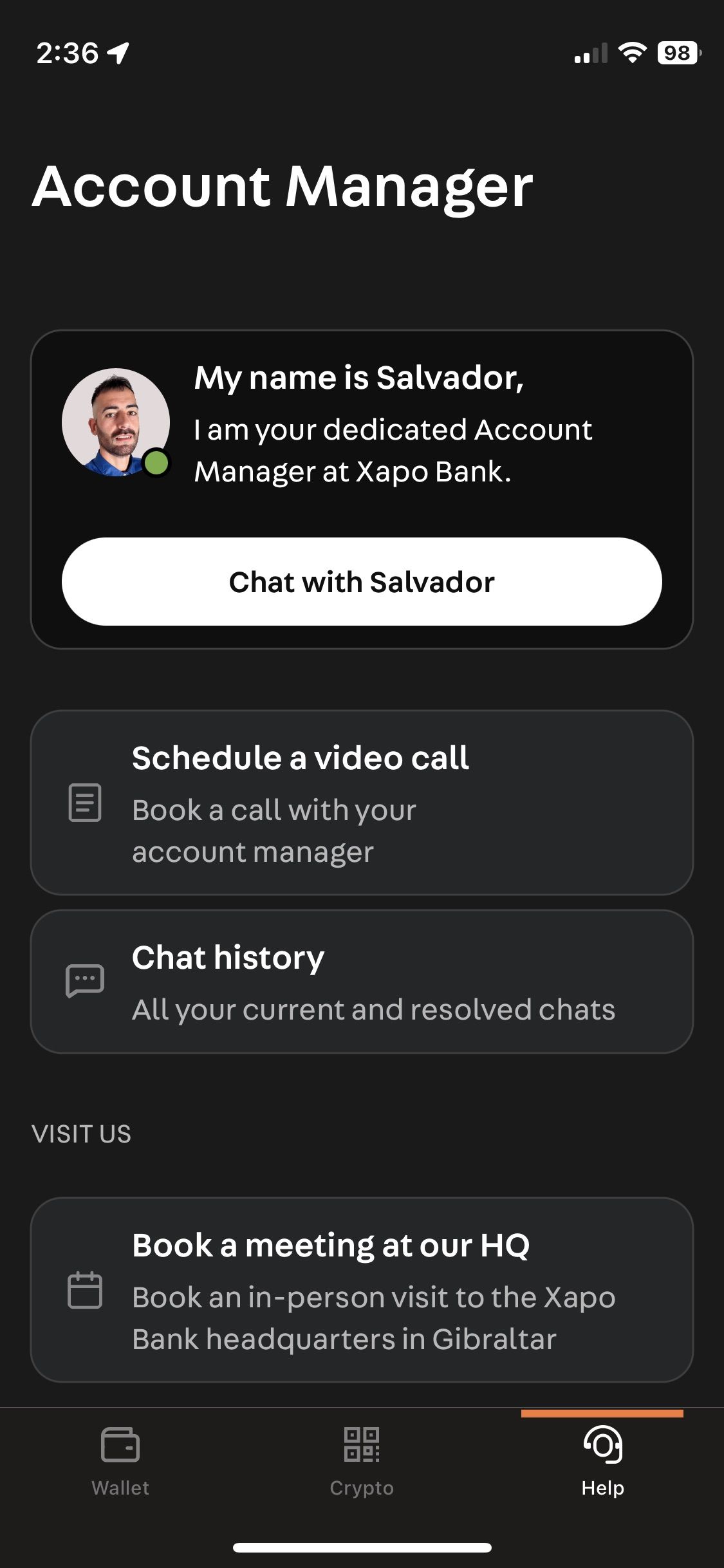 I personally had to reach out to their customer support team on a few occasions for minor issues, and I was impressed with their fast and efficient resolution of my problems.
Bitcoin Card
Once you complete the onboarding process, you'll be able to order the Xapo Card.
Xapo offers three different card options: a sleek and sturdy metal card, a durable plastic card, and a convenient virtual card that you can delete and create anew anytime you want.
For the physical cards, all you need to do is place your order and your card will be shipped directly via DHL to the address listed on your Xapo account, ensuring that you receive it as quickly as possible.
At that point, you can start to reap the benefits of using your card, including cashback of up to 1.1% form each transaction and free foreign exchange transactions.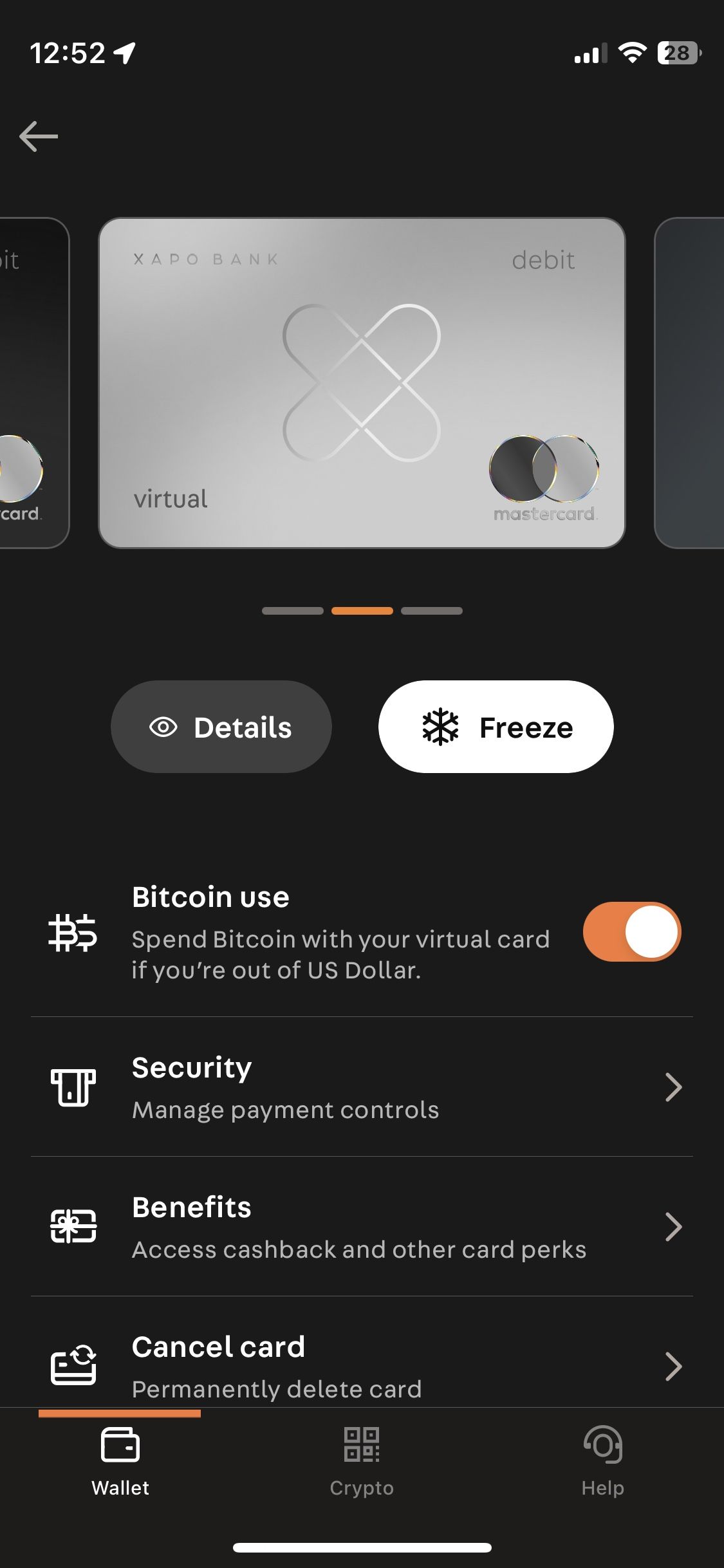 Keep in mind that the card is tied to your US dollar bank account by default. To be able to spend BTC when making card purchases, you must enable auto-conversion to Bitcoin.
You can easily do this by heading to the Cards section and click on Bitcoin use for each of your cards. By doing so, you'll have the ability to use your BTC instantaneously with your card purchases.
Other Benefits
Although Xapo has numerous features that make it an excellent option for managing your finances, the annual membership fee of $150 can be seen as a drawback.
However, there are also some perks that come with the Xapo card.
Earn with Xapo
The potential downside of higher annual membership cost can be offset by Xapo's cashback rewards and the interest rate offered on both your USD and Bitcoin savings.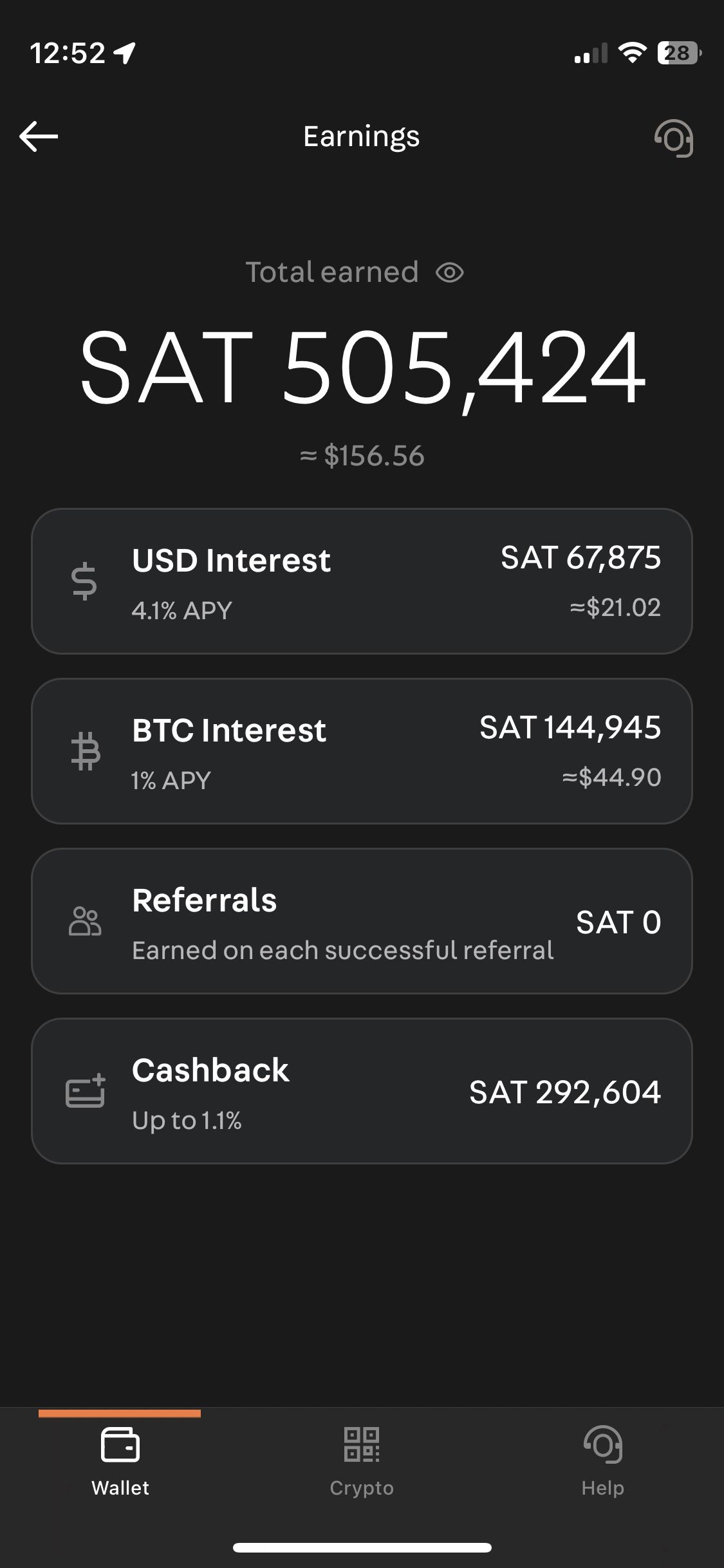 By finding the right balance between your spending and saving habits, along with occasional larger purchases such as a new Mac in my case, it's possible to earn more than enough to cover the cost of the account.
Free Airport Lounge Visit
Another advantage of owning a Xapo Mastercard is the exclusive benefit of receiving a complimentary lounge visit at over 1200 airport lounges worldwide with Lounge Key.
Imagine escaping the chaos of the bustling airport terminals and finding solace in a serene and well-appointed lounge. Xapo Mastercard holders are entitled to one free lounge visit per year. This perk provides an opportunity to relax in a comfortable environment, away from the hustle and bustle of crowded waiting areas.
For those who opt to apply for both the metal and plastic Xapo Mastercards, an additional lounge visit is offered (with a separate Lounge Key registration), allowing two complimentary visits per year.
Referral Program
Last but not least, another way to significantly reduce membership fees is Xapo's referral program. By introducing Xapo to your friends and family, you have the chance to receive a generous $30 worth of bitcoin for each approved sign-up.
Best of all, your friends get to benefit too by receiving the same amount. Talk about WIN-WIN!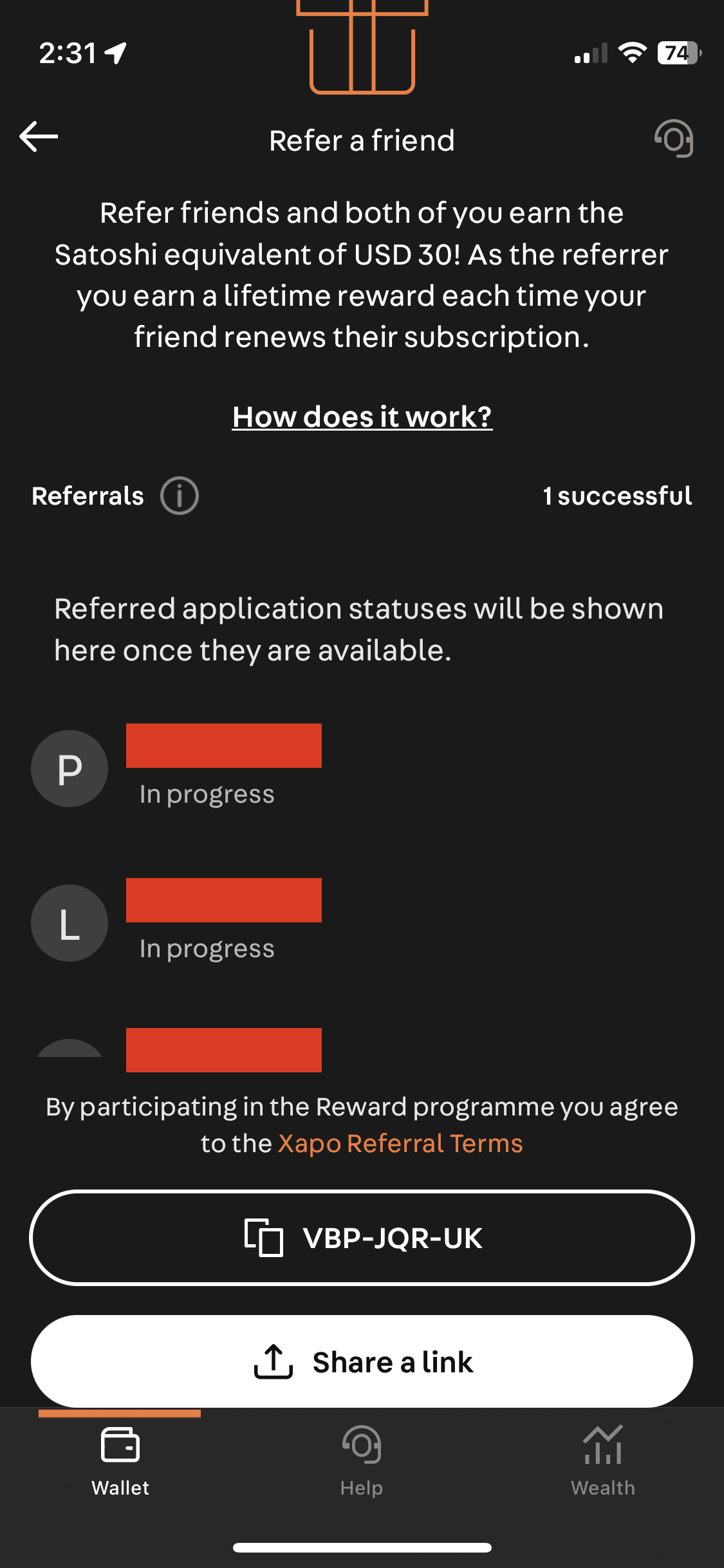 What's even more enticing is that as long as your referrals continue to be Xapo customers, you will receive the reward annually, helping you save money while strengthening your Bitcoin portfolio.
Your Xapo account can be free forever with as little as 5 referrals.
---
So don't let the membership fee discourage you from experiencing all the benefits that Xapo has to offer.
If you find that all the features mentioned above match what you're looking for, I would greatly appreciate if you used the link below to create an account (or paste the code when requested: VBP-JQR-UK).
This way, we will both receive a reward of $30 worth of bitcoin (and you'll be able to further reduce the membership expense). Thank you for considering this opportunity!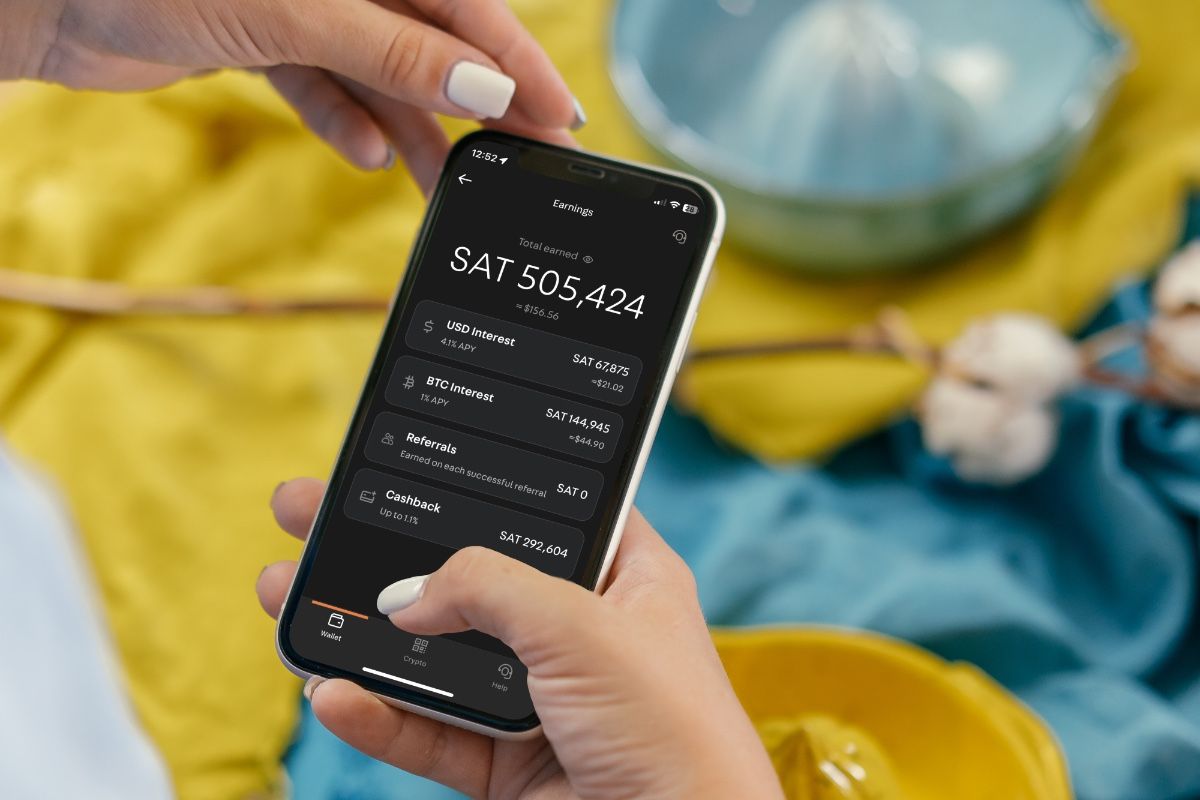 Earn rewards for both your savings and spending with Xapo Card. Enjoy an attractive interest rate of up to 4.1% and cashback of 1.1%. Sign up now and earn $30 in rewards on top!
SIGN UP NOW
Found this valuable?
Please consider supporting us. Thank you!
Support us