privacy
Privacy, Simplified: How Proton Makes Privacy Accessible for Everyone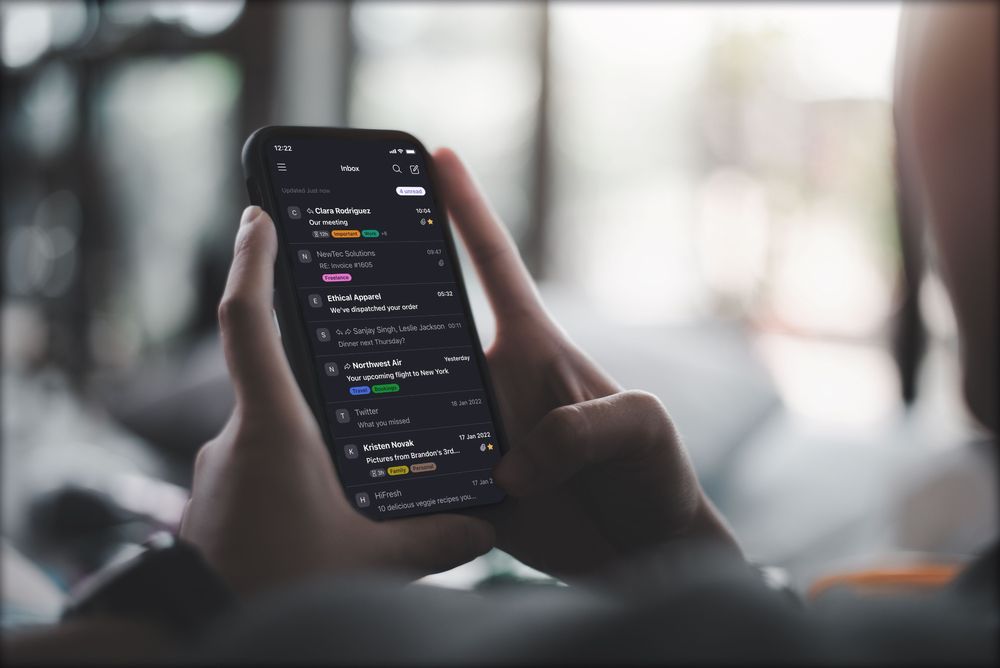 In the digital age, where our lives are increasingly intertwined with technology, the importance of online privacy has become paramount. Our personal information is now more vulnerable than ever, caught in the web of countless websites, social media platforms, and digital services eagerly collecting and storing our data.
The dire need to safeguard our online privacy arises because malicious actors can easily exploit our browsing history, financial transactions, and even our physical whereabouts.
Protecting our online privacy becomes not only crucial but a means to safeguard personal security, protect valuable assets, and retain control in the vast digital universe.
Enter Proton, a privacy-preserving company committed to providing secure and trustworthy products to its users. The company recognizes the importance of privacy as a fundamental human right and understands the consequences of its erosion in an interconnected society. With this conviction in mind, Proton has created a comprehensive suite of privacy-preserving products tailored to address various digital privacy concerns.
Proton Mail
Elevate your communication to a new level of security and privacy with Proton Mail. Leave behind concerns of eavesdropping and unauthorized access, as this encrypted email service goes above and beyond to safeguard your sensitive conversations.
With cutting-edge end-to-end encryption, your messages remain completely protected from unauthorized viewers, ensuring unparalleled peace of mind. The best part is that you don't even need to understand the complexities of cryptography to benefit from this level of security.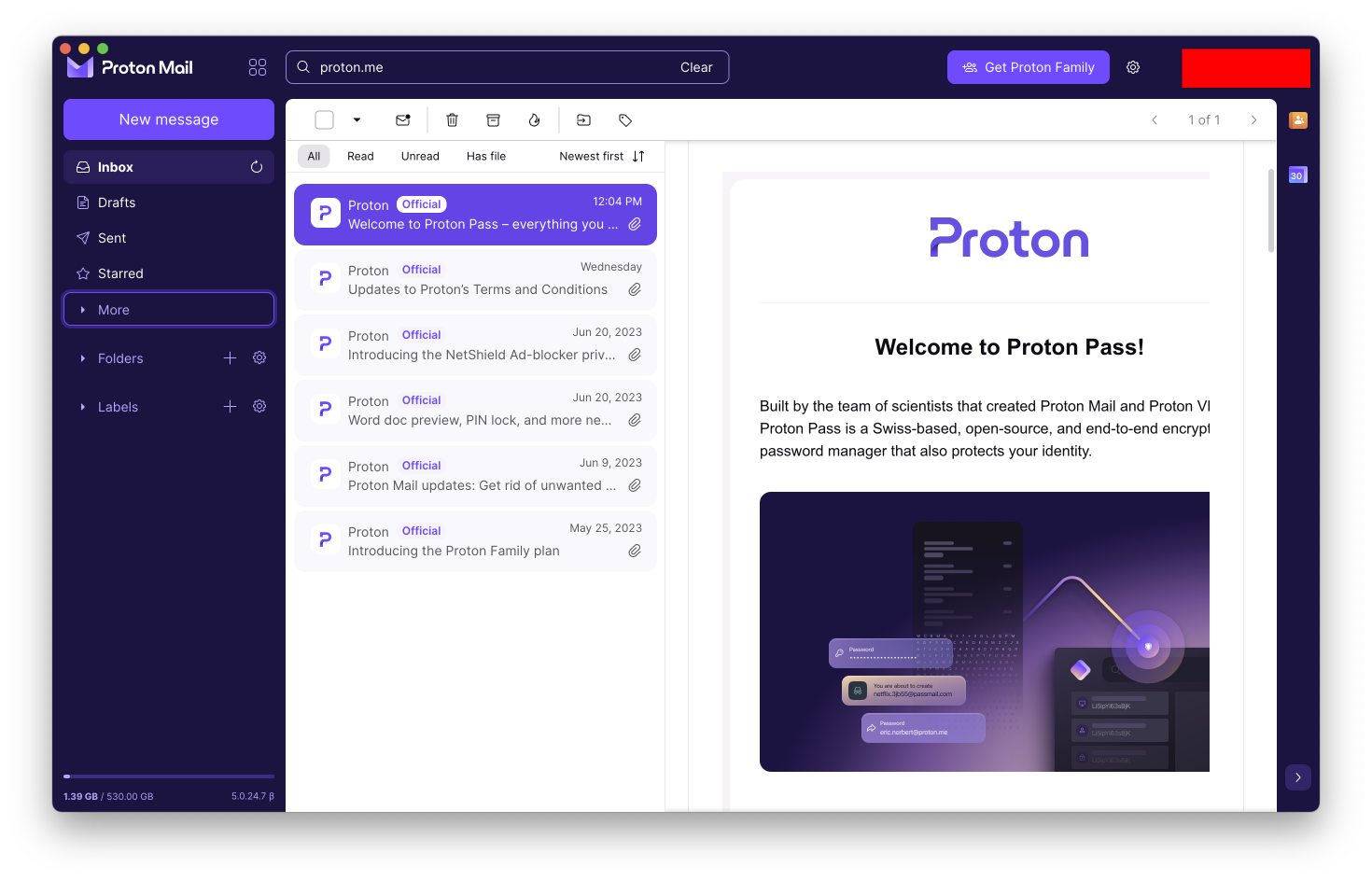 Proton Mail doesn't only prioritize your security, but also offers a captivating user interface that seamlessly blends simplicity and efficiency. Emailing becomes a delightful experience once again, thanks to its intuitive and streamlined design.
Whether you are an individual safeguarding personal information or a business seeking a reliable and powerful email solution, Proton Mail is the answer. It is the ultimate choice for those who value both privacy and convenience.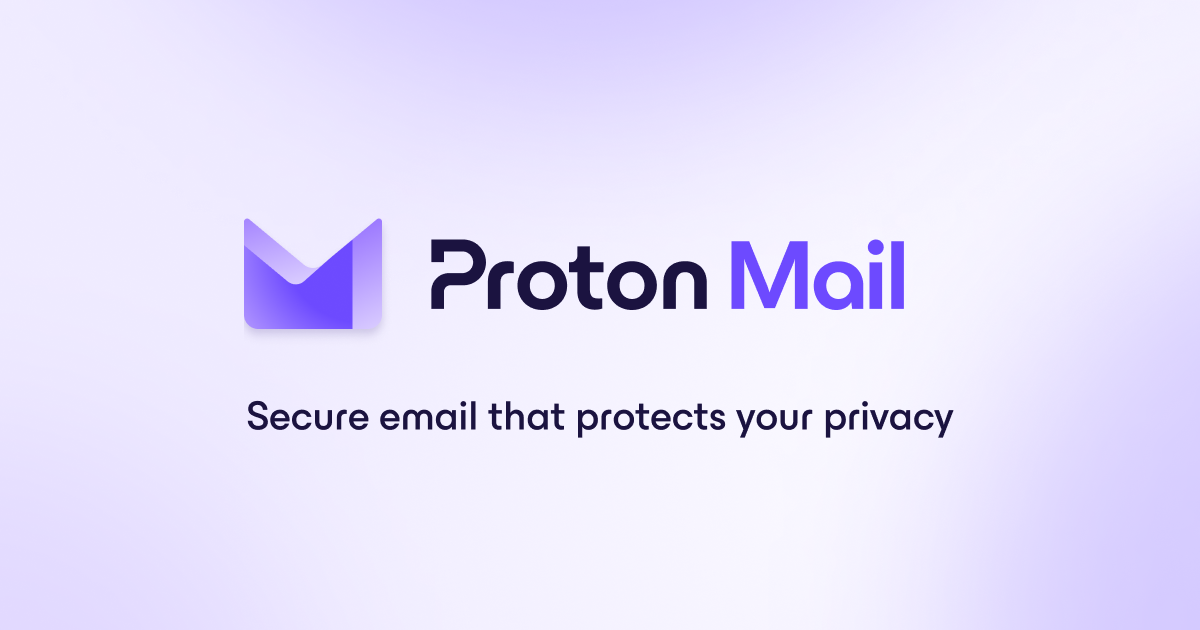 SimpleLogin
SimpleLogin is a powerful and user-friendly email alias service that allows individuals to create disposable and unique email addresses. These addresses act as temporary shields for their primary email accounts, shielding you from spam, unwanted emails, and potential data leaks.
With SimpleLogin, you can take control of their inbox and significantly reduce the risk of their personal information falling into the wrong hands.
In the year 2022, Proton has acquired SimpleLogin, paving the way for an exciting partnership. As a result, any Proton Mail paid program now includes a complimentary SimpleLogin subscription.
Proton VPN
Proton VPN is a highly secure virtual private network service specifically designed to safeguard your online activities from unauthorized access. In this era of growing cyber threats, it has become imperative to prioritize the protection of your internet usage.
Proton VPN offers a reliable solution by encrypting your internet traffic, masking your IP address and blocking malware, preventing any third-party entities from monitoring or tracking your valuable online movements.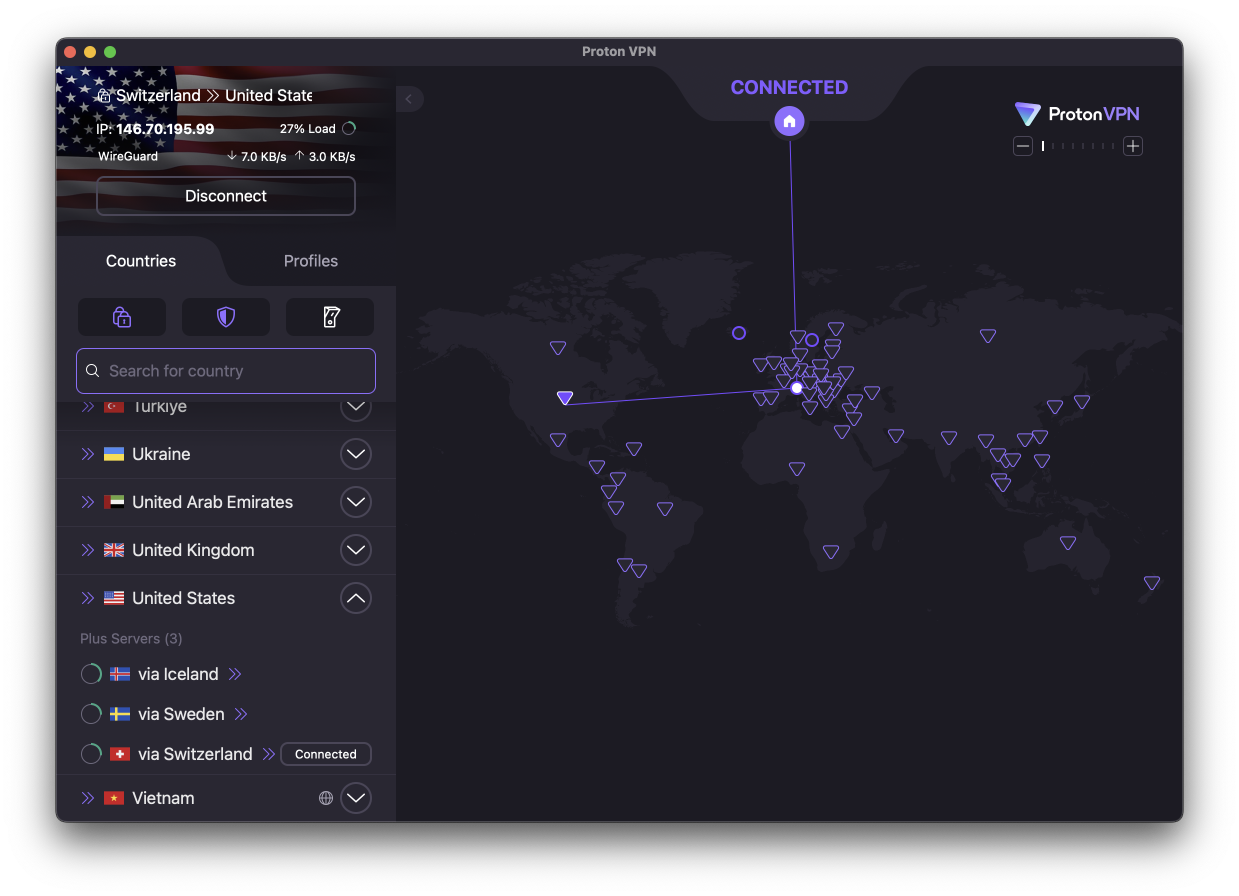 Proton VPN also boasts an extensive network of secure servers scattered worldwide. Currently, there are almost 3000 servers available in 68 countries. Out of these servers, almost 100 Secure Core servers are running in countries with privacy-friendly laws such as Switzerland and Iceland.
With Proton VPN, you can now explore the vast wonders of the internet fearlessly, knowing that your activities are shielded from potential threats. Whether you're engaged in streaming preferred content, financial transactions, or professional activities, you can be confident that your privacy remains secure.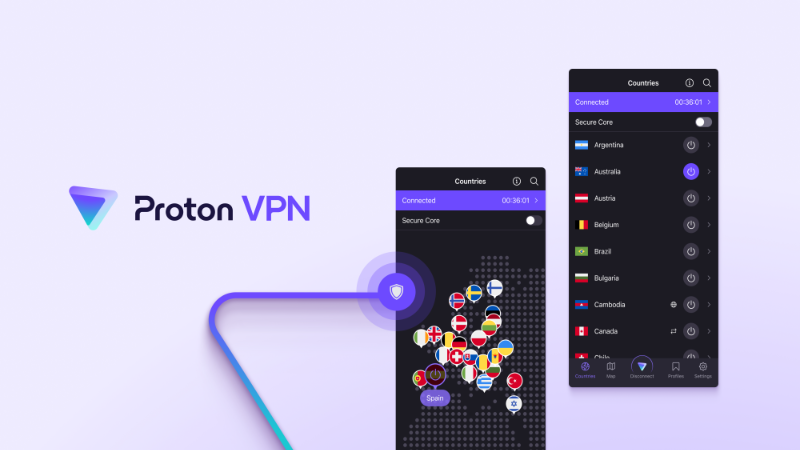 Protect your digital life with Proton VPN, the leading provider of secure and private internet connections. Whether you're browsing, streaming, or working remotely, our advanced encrypted network ensures your online activities are shielded from prying eyes.
Get it NOW for just $4.99/mo
Proton Drive
Proton Drive, the ultimate cloud storage service, is specifically designed to prioritize user privacy. Combining end-to-end encryption, ProtonDrive ensures that your files and confidential documents are always safeguarded from unauthorized attempts and even Proton itself.
Rest assured that with ProtonDrive, your data is secure and your privacy is protected.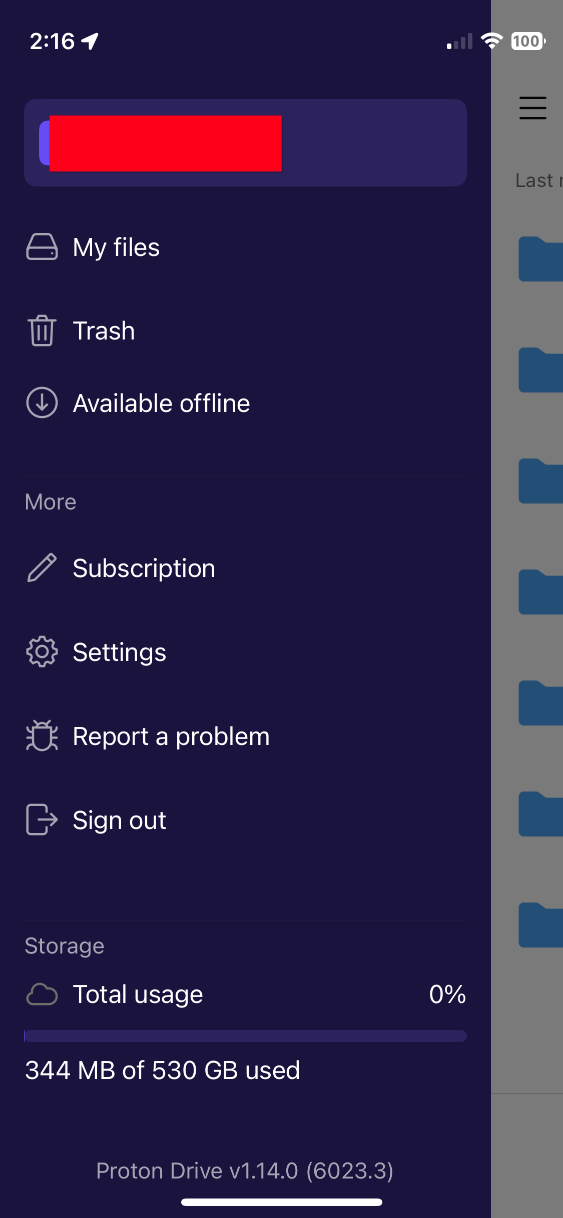 You can utilize the platform's functionalities to not only serve as a traditional cloud storage solution but also effectively share files publicly. This includes the ability to set sharing expiration, enhancing convenience and control. You also have the option to protect these files by assigning a password for enhanced security.
In terms of desktop integration, Proton has potential for enhancement, as it is currently in private beta and limited to Windows users (with Mac users gaining access soon). Nevertheless, you need not worry, as Proton makes up for this limitation with its impressive iPhone and Android apps that offer seamless file system support.
Proton Pass
Proton Pass is the latest of Proton's products. While still in its earlier development stage, it's on the path to be the ultimate password manager that takes your online security to a whole new level.
Gone are the days of worrying about hackers gaining access to your personal data. Proton Pass encrypts all your login information, from usernames to web addresses and everything in between. This ultra-secure encryption, coupled with stringent authentication measures, ensures that even Proton cannot access your precious data.
But the protection doesn't stop there. Proton Pass goes the extra mile to shield your identity with SimpleLogin's email alias feature. No more exposing your actual email address when signing up for new online accounts. Proton Pass can automatically generate an alias, keeping your true email address hidden from prying eyes.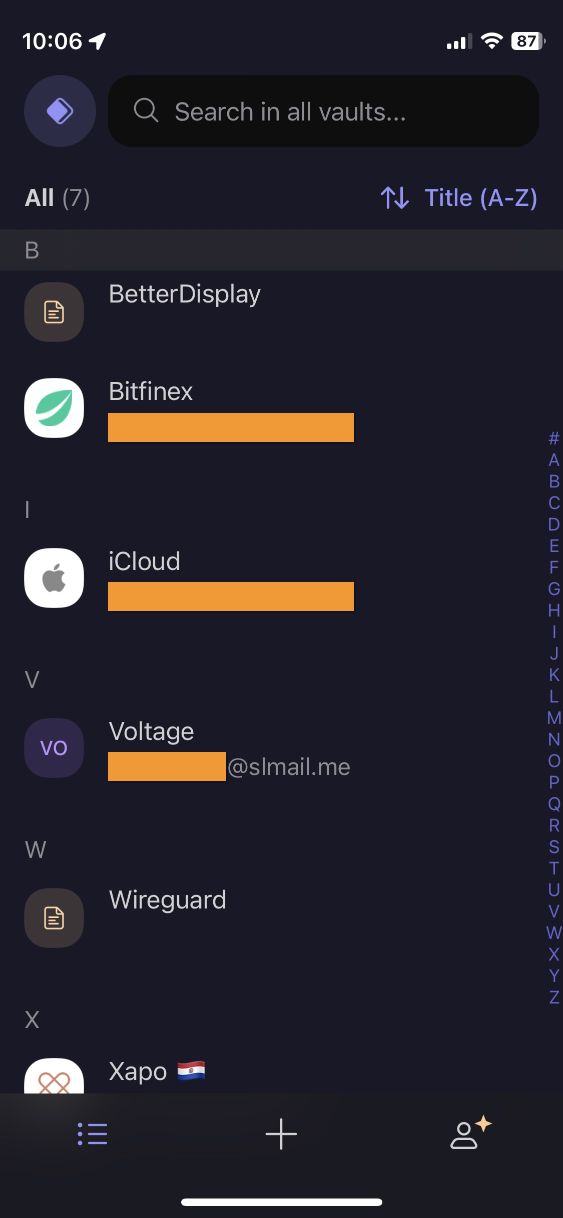 Need a safe place to store private notes, credit card numbers, or other confidential details? Proton Pass offers encrypted notes, allowing you to conveniently save all your personal information. Accessible only by you and available on any of your authorized devices.
Moreover, Proton Pass simplifies the management of two-factor authentication (2FA). Seamlessly storing your 2FA codes, it automatically displays and autofills them whenever necessary. Bid farewell to the inconvenience of managing multiple apps or devices for your 2FA codes.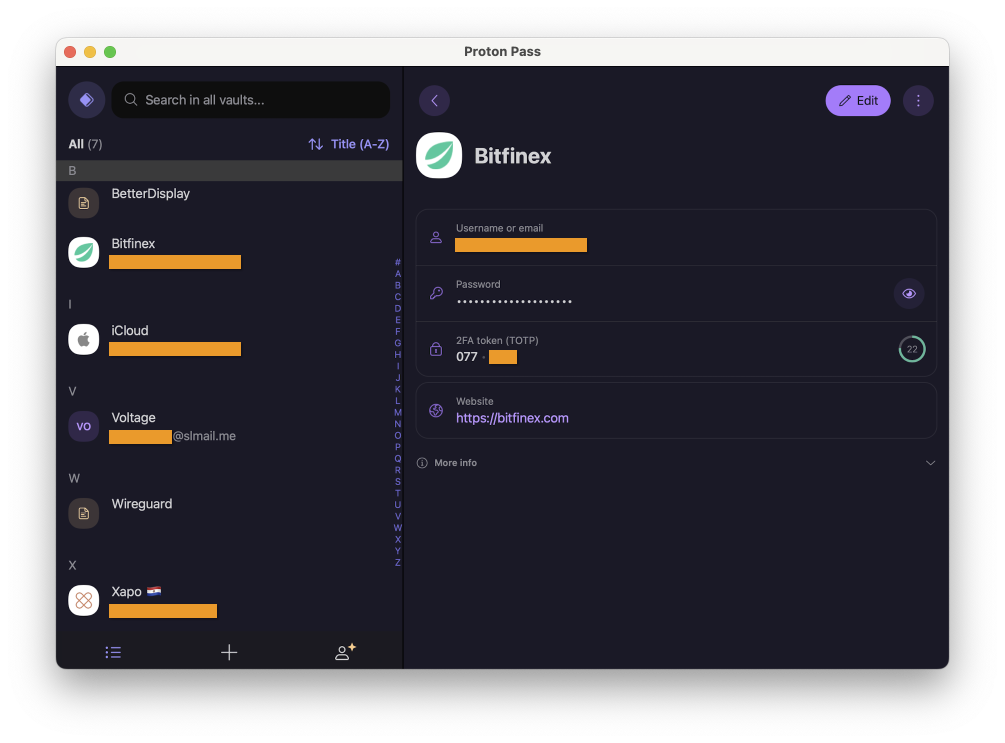 Proton Pass is currently available for Google Chrome and its derivates (e.g. Brave), Firefox, Edge and both iPhone and Android. However, if you own a more recent Mac equipped with Apple Silicon (M1/M2 chip), the iPhone application works just fine.
Proton Calendar
Proton Calendar, although it may not encompass all the conventional calendar features, compensates for this limitation by offering robust privacy measures. While competitors may excel in aspects like automated event addition from emails, Proton Calendar's commitment to privacy sets it apart.
Proton Calendar efficiently safeguards all your scheduled events using advanced end-to-end encryption, ensuring utmost security. Whether you receive events from fellow users of different calendar platforms or utilize Proton Calendar exclusively, your data is protected with state-of-the-art zero-knowledge encryption.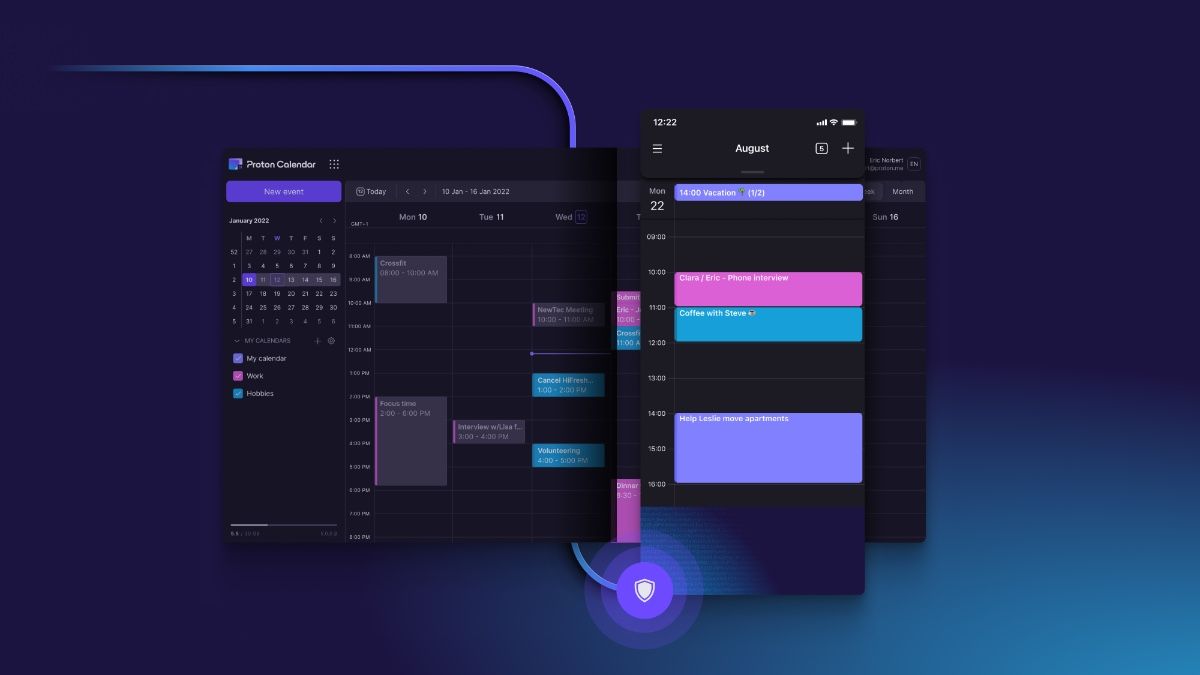 By employing these encryption protocols, every aspect of your event, ranging from the title to the description, location, and even the individuals invited, remains completely encrypted. This means that even the Proton team cannot access or view any of the encrypted data, guaranteeing unparalleled privacy and confidentiality for all your event details.
---
Ultimately, Proton's products are designed to empower individuals to take control of their online privacy. By providing secure and private solutions for email, browsing, data, calendar management and passwords, Proton seeks to create a safer digital environment where individuals can communicate and organize without compromising their personal data.
If you seek to enhance your privacy protection through Proton's comprehensive suite of tools, you can effortlessly sign up for a free account, granting you access to all the aforementioned applications.
By signing up with my link, you will receive a free month of Mail Plus and I will receive a small commission. Thank you for considering this opportunity!
Please refer to the table below to see the differences between Proton Free and Proton Mail Plus.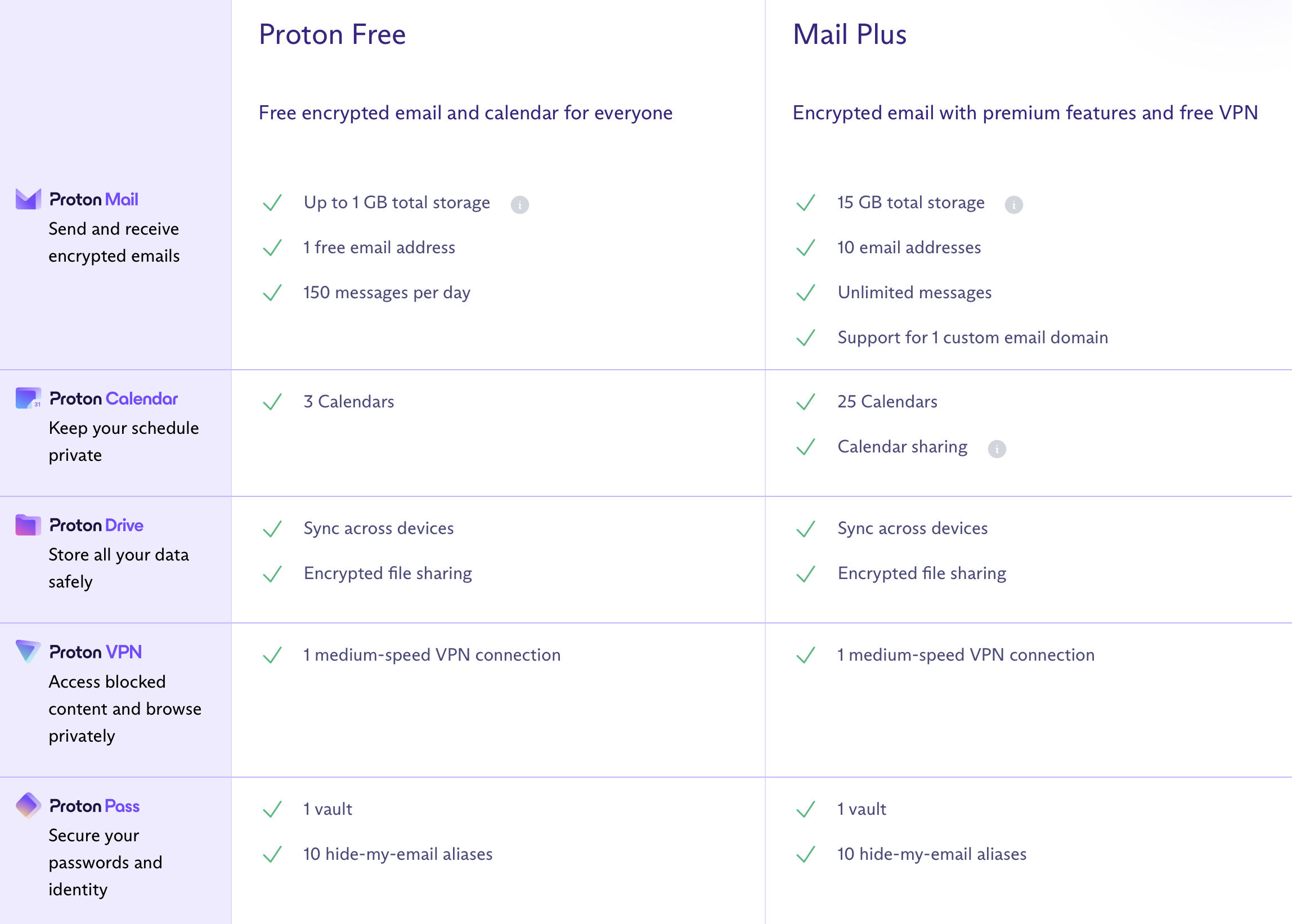 Nevertheless, by opting to subscribe to one of Proton's paid solutions, you can truly maximize the benefits offered by the entire feature set.
The pricing starts from $3.49 per month for Proton Mail, while a mere $7.99 per month grants access to all the current apps and any forthcoming applications developed by Proton.
In order to enhance your level of anonymity (to a certain extent), it is highly advisable to opt for signing up with an email address that does not include your actual name. Additionally, paying with Bitcoin, allowing for pseudonymous transactions, can further safeguard your privacy.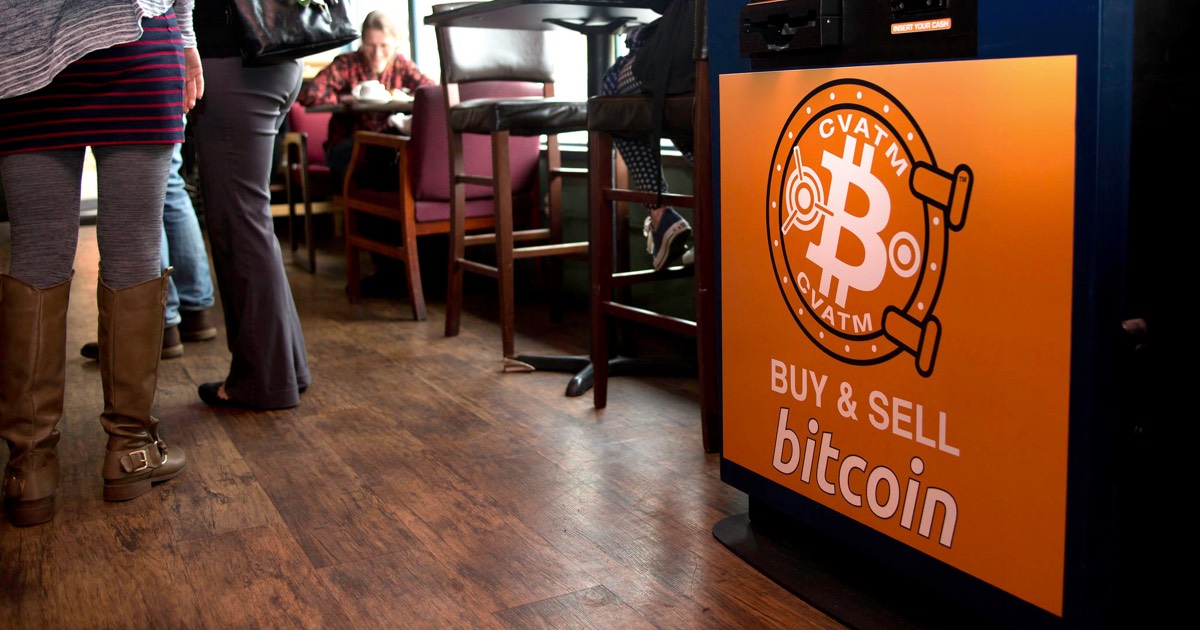 Found this valuable?
Please consider supporting us. Thank you!
Support us