bitcoin
How to Get FREE Bitcoins with Byteball and Stellar Lumens Giveaways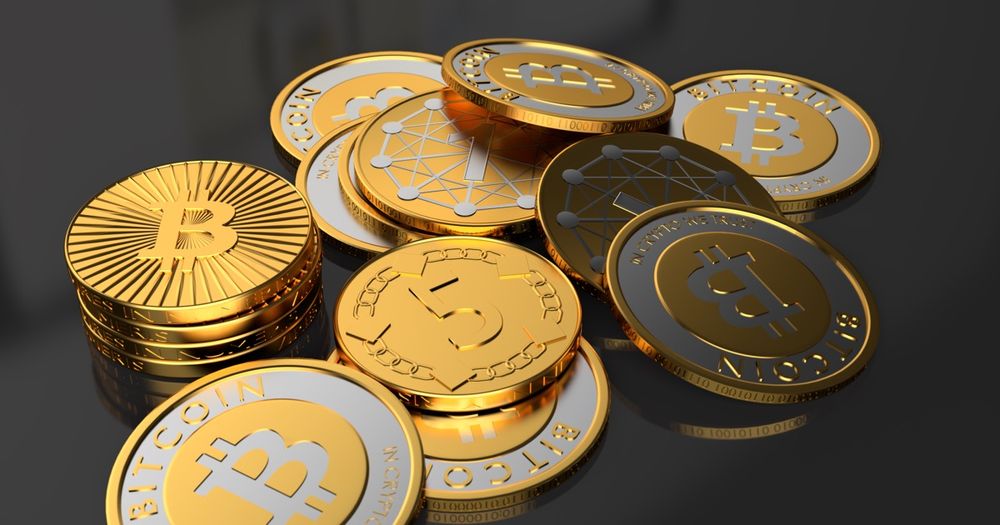 Making money in the crypto space is fairly easy if you know what you're doing. There are tons of altcoins that have gone up hundreds of percents recently.
If you have guts to trade this highly volatile market you may be in for some big profit. For everyone else, there are easier ways to make profit and completely FREE!
Certain new cryptocurrencies do so-called "fair initial distribution" offers.
It means that if you already hold an existing cryptocurrency (mostly Bitcoin) you will be awarded a certain amount of new free coins based on your existing amount.
You can then sell these altcoins for bitcoin (or any other currency of your choice) and make a nice profit.
These offers are FREE as part of their marketing strategy. Currently, there two cryptocurrencies that offer free initial distribution: Byteball and Stellar Lumens.
I won't get into technical details of those altcoins, the article only serves the purpose of making quick money.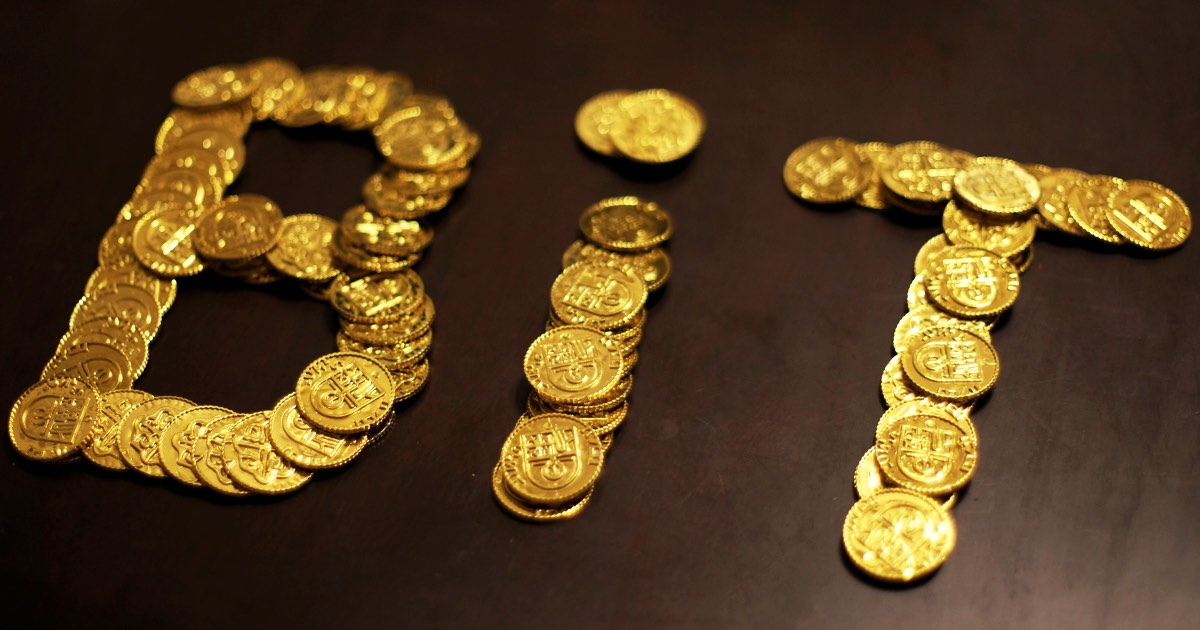 Byteball
The nearest distribution round will happen on July 9th, 2017.
For every 1 BTC that you will prove ownership to, you will get 62 500 000 bytes and more than 131 900 000 black bytes.
I'm not aware of an option to sell black bytes, however, you can currently sell 62.5 megabytes for around 0.0082 BTC. As of the date of writing that's more than $15.
Enough math, let's explain how to set up the whole thing.
Download and install a Byteball wallet. I'll be using their Mac OS X version in this tutorial.
When the wallet is downloaded open it and go through the initial setup.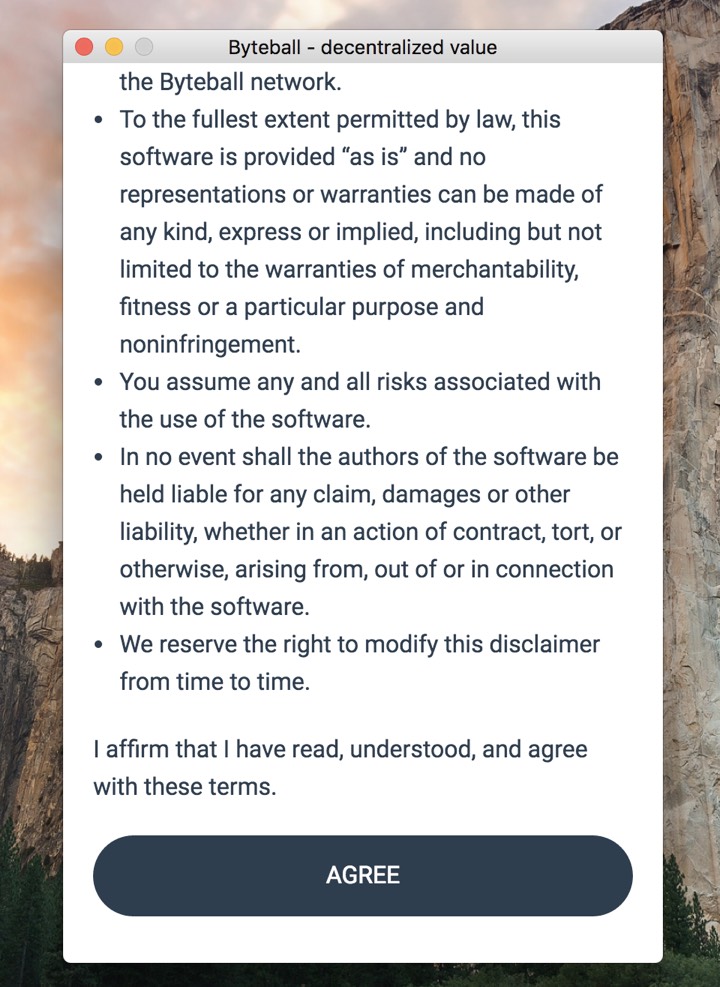 Scroll down and agree to the terms.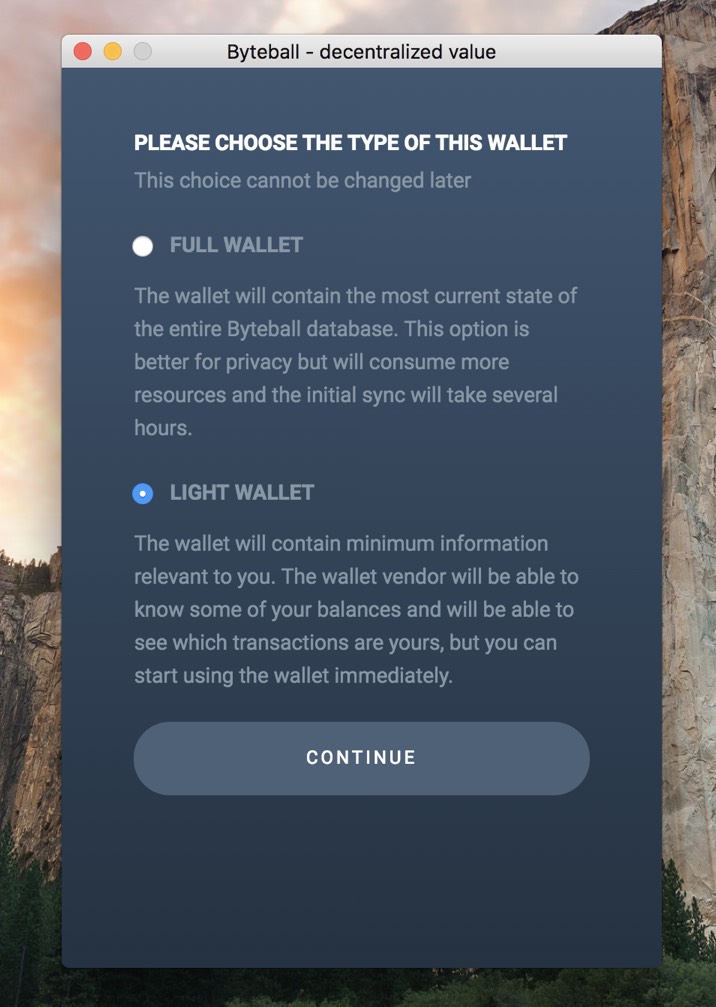 Ignore the "privacy warning" and choose the "light wallet" option instead. We'll fix the privacy issue later.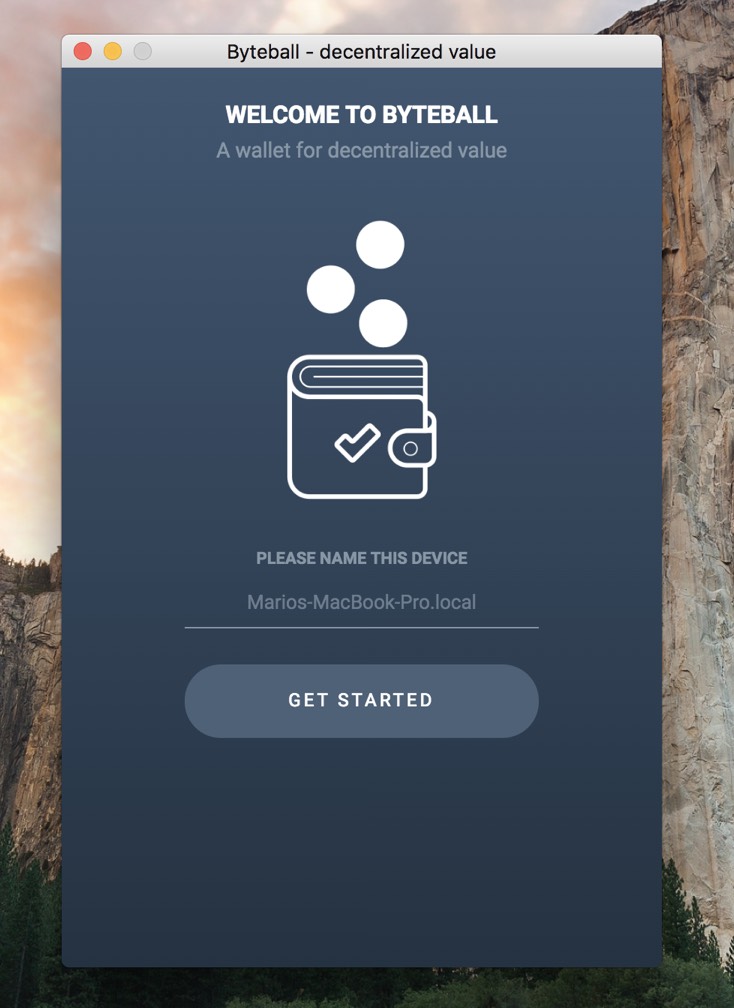 Name the wallet and go to the next step. You can keep the default value, it doesn't matter.
When the wallet is ready, click this link which will take you to the chat with a "Transition Bot".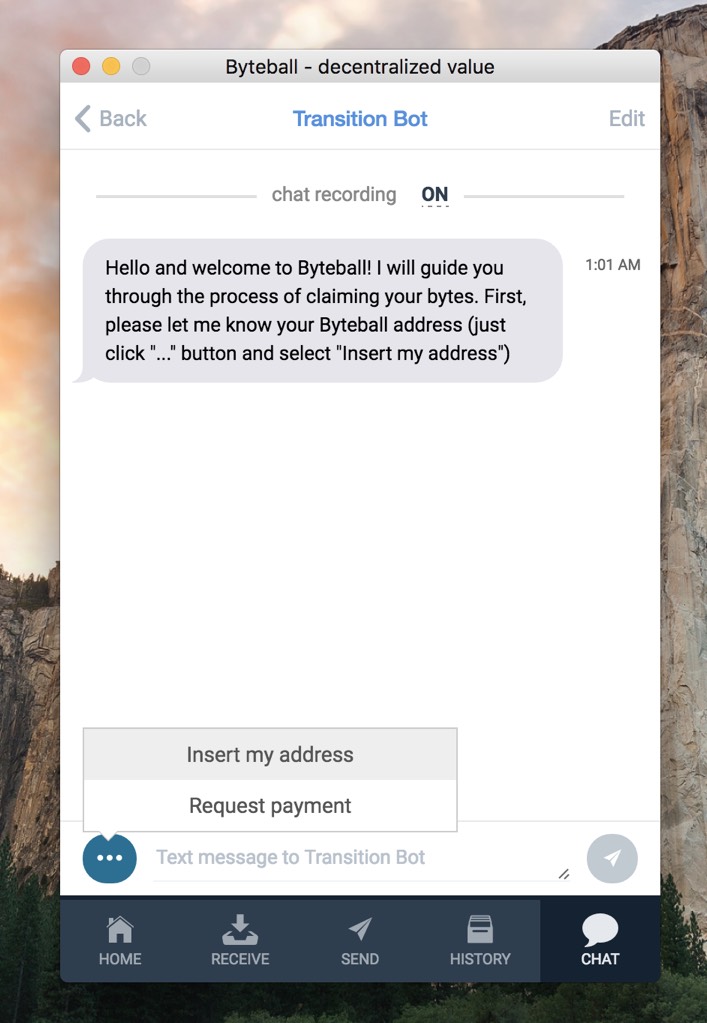 Click the blue "..." button and select "Insert my address" followed by ENTER.
The bot will explain how to prove ownership to your bitcoins.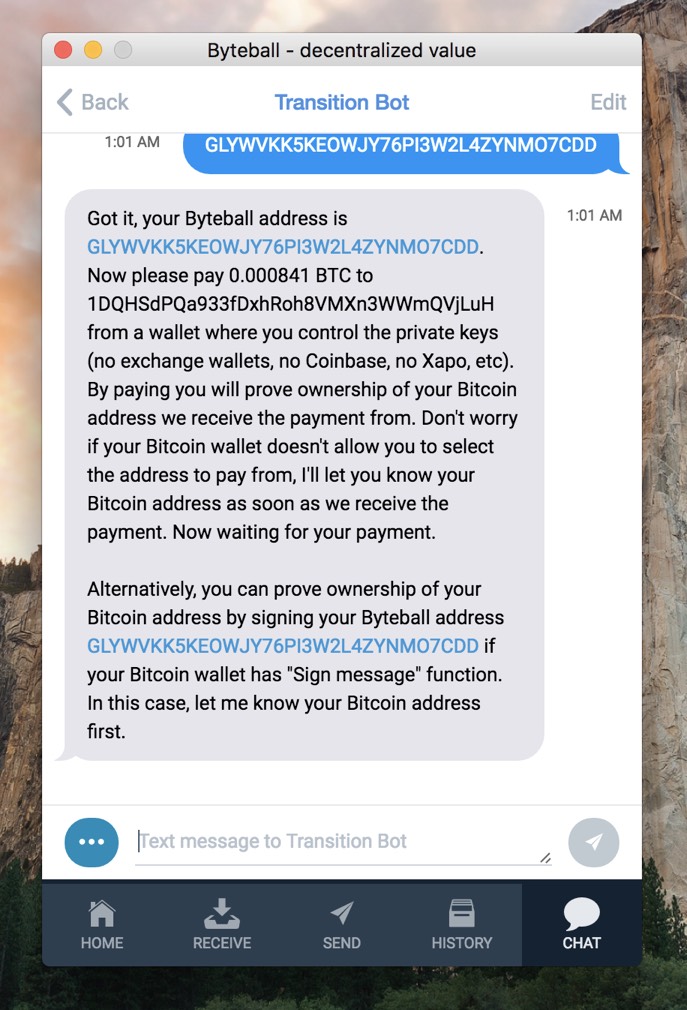 I recommend you to ignore the first option because it costs you a transaction fee which isn't low and quite a bit of time because Bitcoin network is currently under a heavy load.
Let's go for the second option instead.
We'll prove ownership to coins by signing a message with the private key of a wallet address.
I store most of my bitcoins in Trezor, but I'll be demonstrating the process in Electrum which is free and likely more widely used.
Open your wallet and go to the list of wallet addresses. Find the one that you want to prove ownership to.
In Electrum, click on "Addresses" and scroll through both "Receiving" and "Change" addressed to look for one that has some value.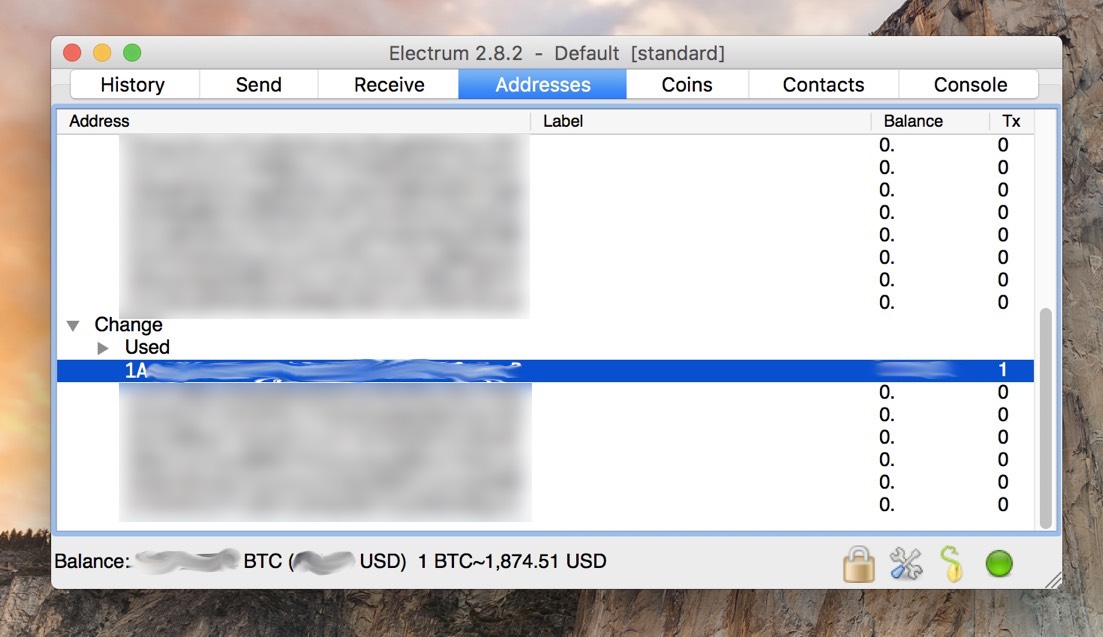 Right click to copy the address.
Next, find a "Sign message" option in the wallet. In Electrum go to Tools -> Sign/verify message.
Paste the Bitcoin address in the "Address" field.
Go to the Byteball chat and copy the wallet address. Paste it in the "Message" field of your Bitcoin wallet.
Click "Sign" and type in your wallet password (if you have any).
Have a look at the following screenshot: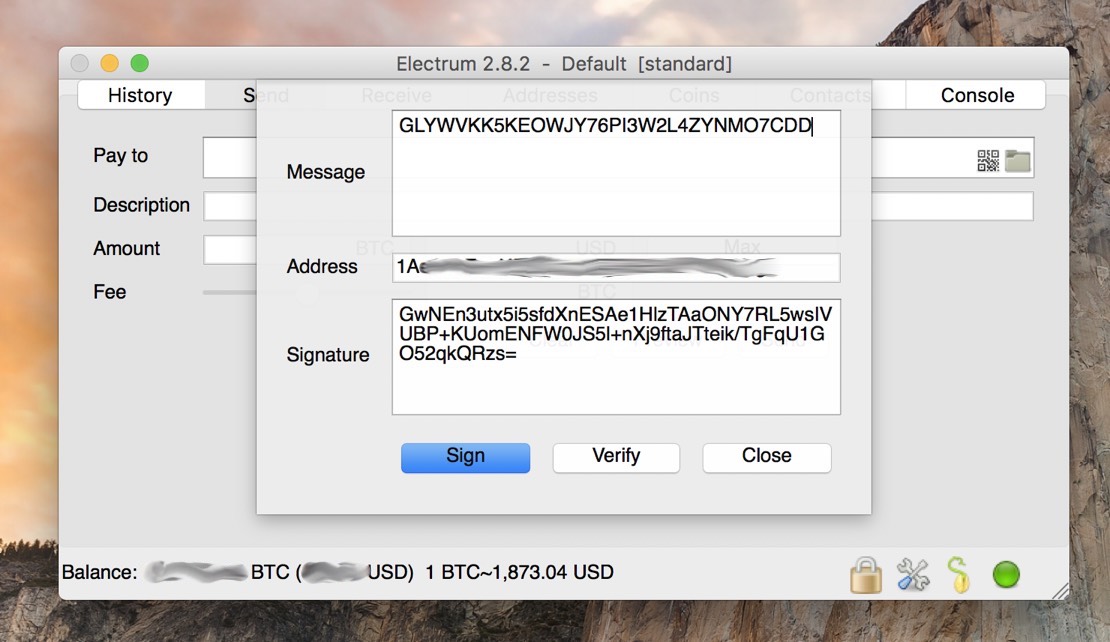 A "Signature" will be created based on the provided data. Copy it and paste it back to the
Copy it and paste it back to the Byteball chat.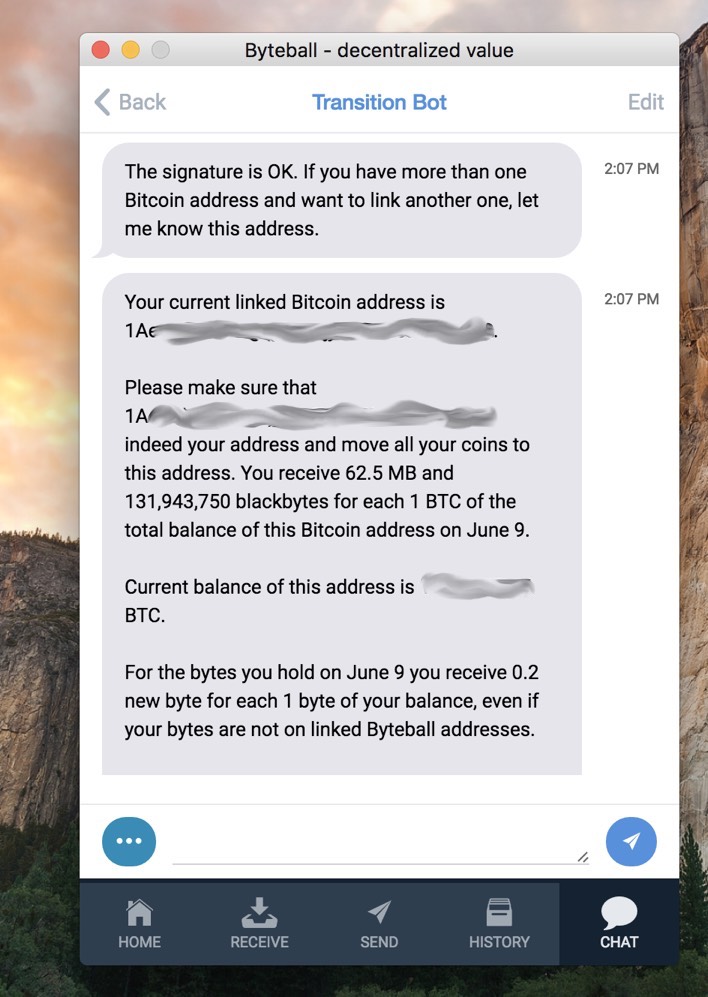 The bot will tell you that the signature is OK and how much you will be awarded for each 1 BTC the corresponding address holds.
To maximize the profit, you can either send more bitcoins to the same address or prove ownership to as many Bitcoin addresses as possible.
When the distribution day comes, you will receive so-called "bytes" to your Byteball wallet.
To cash out into bitcoins, you don't even have to leave the wallet.
You can sell your bytes by simply chatting with an exchange bot.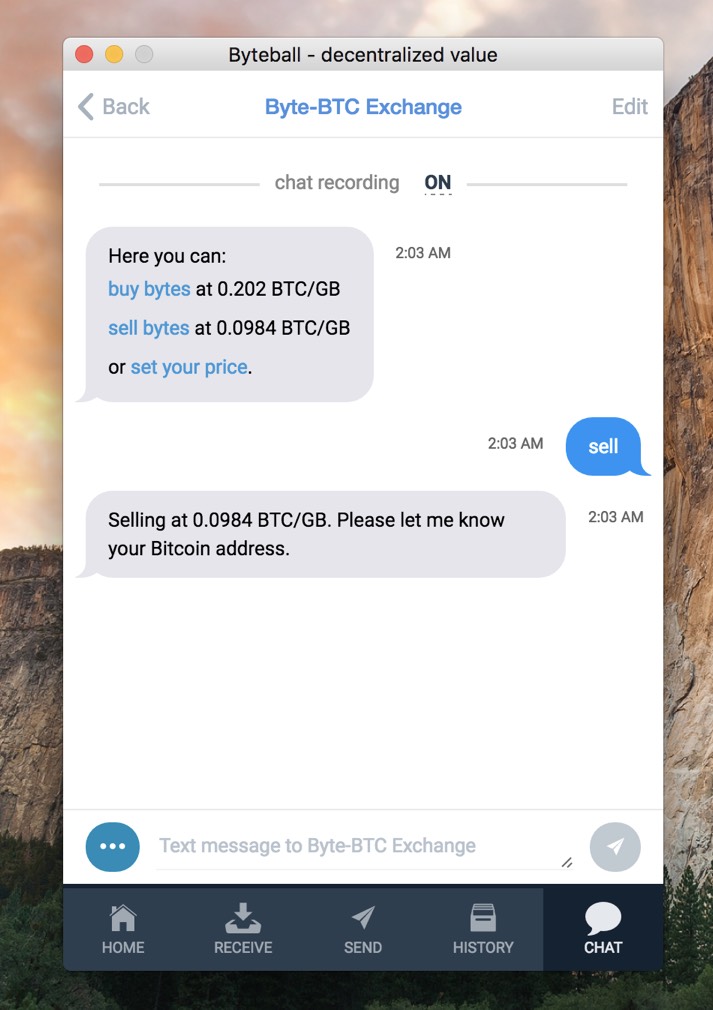 Just click "sell bytes", enter your Bitcoin wallet address where you want to receive bitcoins and wait.
The currency exchange happens in a decentralized manner with other Byteball users so you may need to wait a bit longer.
In the case of any issues or long waiting times, you may want to do the exchange on a centralized market Bittrex instead.
Please note: Don't move your coins to SegWit (or any p2sh) addresses as the Byteball wallet won't support it.
Stellar Lumens
The nearest coin distribution round for Lumens happens on June 27th, 2017. What makes it interesting is the amount they're giving away per 1 BTC.
They will be taking a snapshot of Bitcoin blockchain on June 26th to figure out the total amount of bitcoins in existence.
Let's say the amount will be 16 200 000 BTC.
For each 1 BTC that you claim ownership to, you will be awarded 987.6543209877 Lumens.
The equation goes like this:
Total giveaway * (1 BTC / BTC supply to June 26th, 2017)16000000000 * (1/16200000)

Since Stellar Lumens is currently in a bull market the profit is high.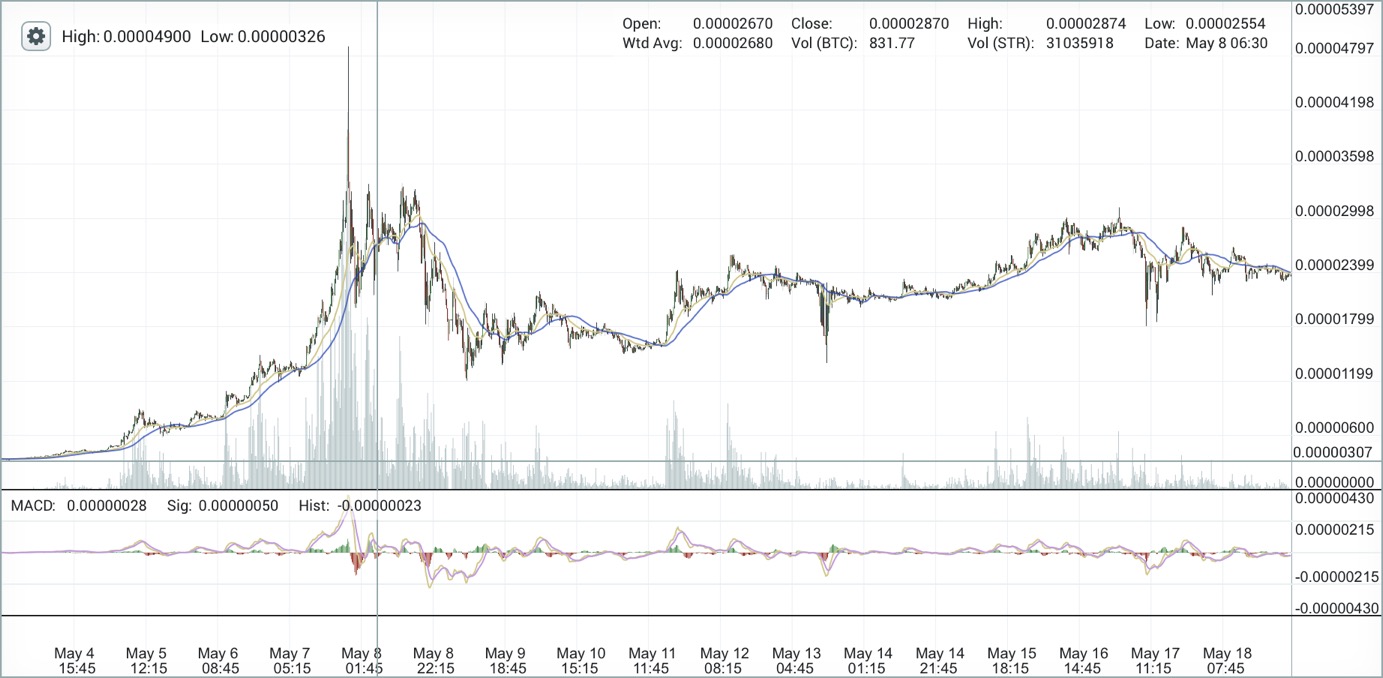 For 1 BTC claimed you'd get around 0.024 BTC or roughly $44.
Now we're talking!
To claim your Lumens, sign up for their newsletter (make sure "Stellar Bitcoin Community" is selected) and wait until the distribution date.
They will be publishing a claim page where you will have to prove ownership to your bitcoins.
It has a catch though.
Instead of sending Lumens to your local wallet, they will be sending it to participating exchanges:
The reason for it (at least that's what they claim) is that the US government requires them to ensure you're not from the country on the US sanction list or from certain US states.
Due to regulatory restrictions, this program is closed to residents of the U.S. states of New York, Georgia, New Hampshire, and Connecticut as well as the nations of Iran, Cuba, North Korea, and other countries subject to sanctions by the United States. These restrictions are subject to change to account for changes in regulatory posture.
Check out the whole list of sanctioned countries.
Fortunately, they will let you verify via Facebook.
If you already have a fake account use it. If not, buy one cheaply on bitcointalk.org or fiverr.com.
Note: I will be updating the post with more details as they publish the claim page.
Privacy issues
Sharing your "loaded" Bitcoin addresses with others may be a privacy concern for some. And for a good reason.
You may become a target of thieves and all kinds of scammers.
Even worse, "the government" may want to suck on your tit and try taxing you if they figure out those addresses belong to you.
To avoid this, you will have to get rid of your bitcoins before you mistakenly associate them with your real identity.
There are few options:
Please don't take your privacy lightly, it may cost you lot of money.
---
As you can see the cryptocurrency space offers lots of opportunities to make money with little to no effort.
For those more greedy, you may want to speculate on the price of the coins instead of selling it for bitcoin.
Since altcoins are becoming more popular the chances are the price could go even tens or hundreds of percent higher than it is now.
I think it's worth taking the risk as the worst case scenario is you will lose your FREE coins.
Do you know about any other initial coin distribution? Please share it with us in the comments below.
Thanks to Manuel_Zeiler and Blind Legs Parker for telling me about the these promotions.
Found this valuable?
Please consider supporting us. Thank you!
Support us